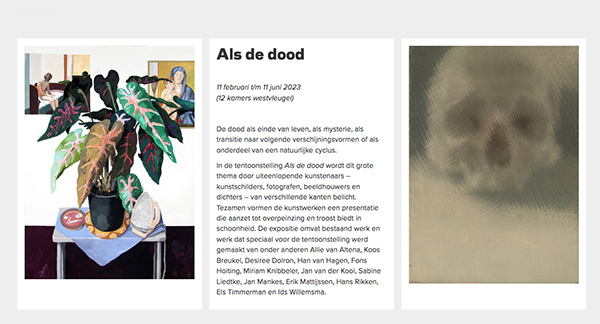 Als de dood
Museum Belvedere Heerenveen
van 11 februari tot en met 11 juni.
www.museumbelvedere.nl/nl/verwacht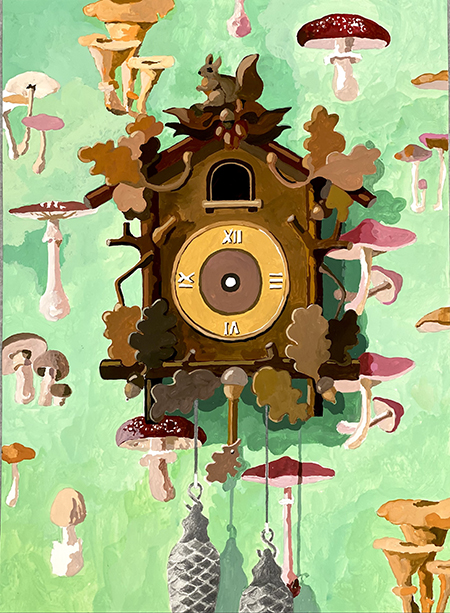 We Like Art presents a new edition, Glockenspiel, in their artspace in Amsterdam.
originally a gouache - now in a perfectly printed piezografie - 55 x 40
With painted hands that indicate your chosen time.
To be visited in a small show with eight other clocks and a clock shop.

https://welikeart.nl/kunstenaar/erik-mattijssen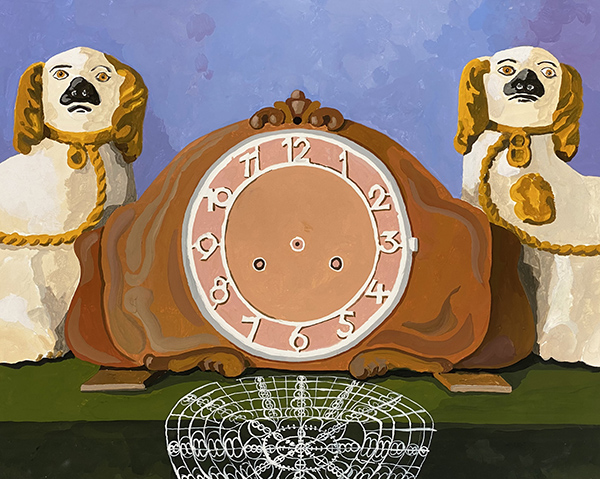 Guardian Angels - 2022 - 40 x 50 cm - gouache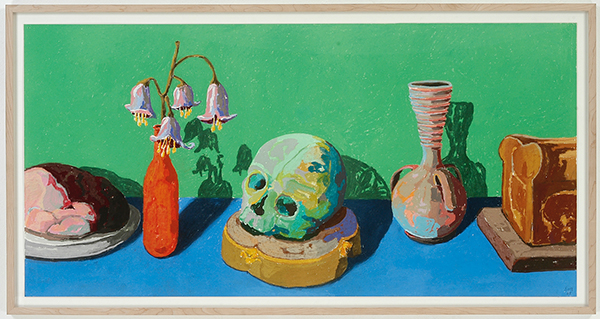 In de schaduw van de meester, 2005 - 50 x 110 cm
COPY / PASTE
Twentyfive artists participate in the show with tsjalling gallery initiated in Groningen.
Twentyfive interpretations of someone's favorite artwork by someone else.
My contribution dates from 2005, in the shadow of the master, Francesco de Zurbaran.
november 26 - december 31 2022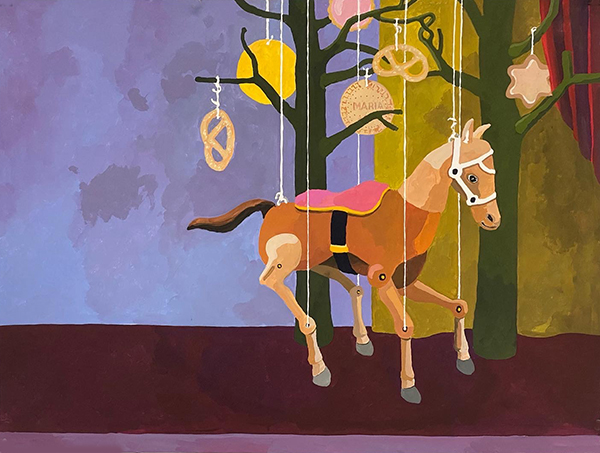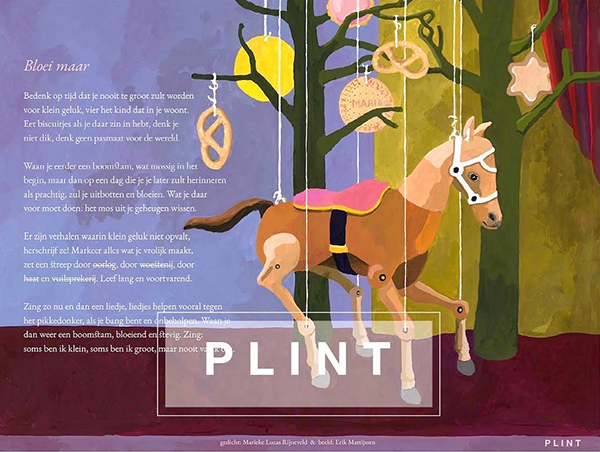 Poster for Plint, an illustration for a poem by Marieke Lucas Rijneveld, Bloom!
to be ordered at www.plint.nl - (without the tag of course!)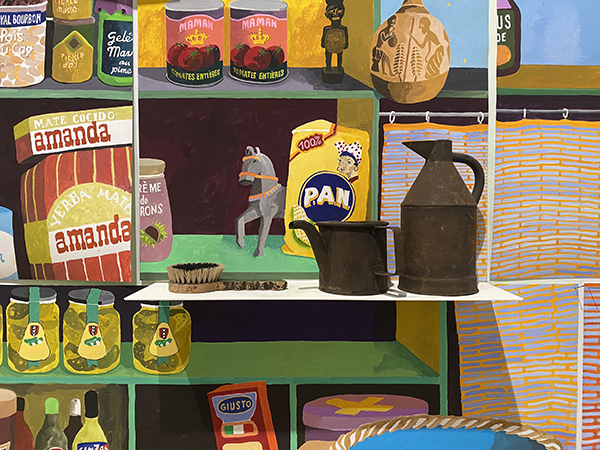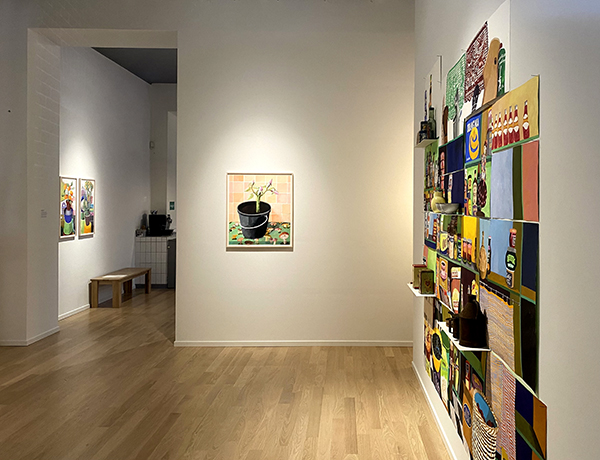 'De stille liefdes van Erik Mattijssen'

a solo presentation in Verwey Museum Haarlem, till October 24 2022

https://verweymuseumhaarlem.nl/tentoonstelling/de-stille-liefdes-van-erik-mattijssen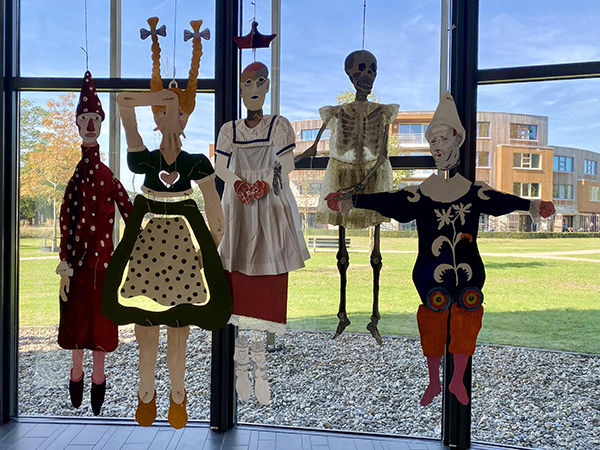 Unsung Heroes - five members
in collaboration with Gijs Assmann shown at 'Kunst bij de Baron'- Bennekom
24 & 25 September 2022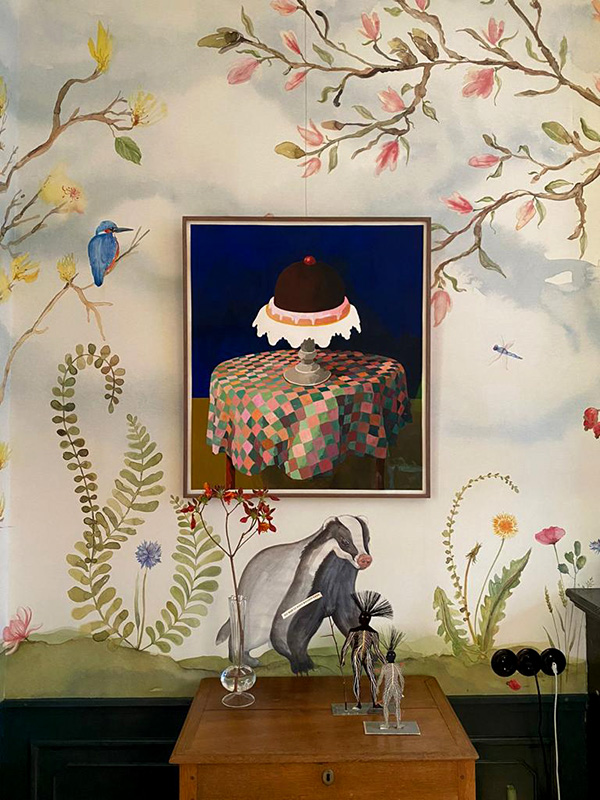 foto: Ramon Dykgraaf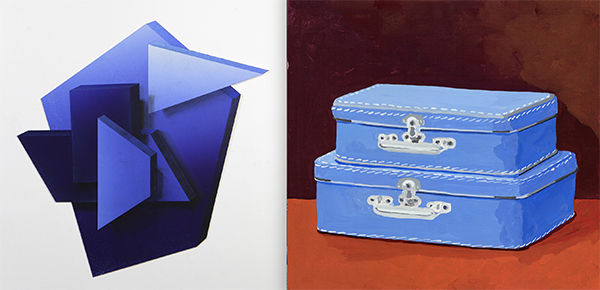 Paper Positions Berlin
with tsjalling gallery
Lenneke van der Goot - Erik Mattijssen
28 april - 1 may 2022
https://www.withtsjalling.nl/erik-mattijssen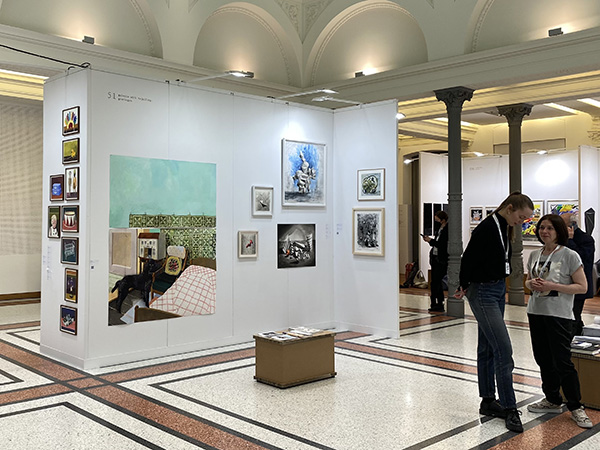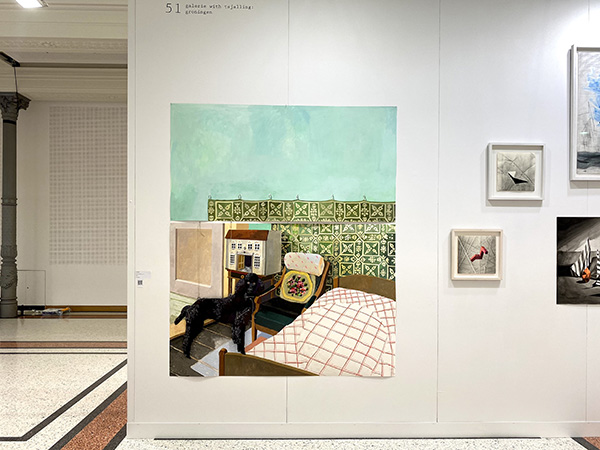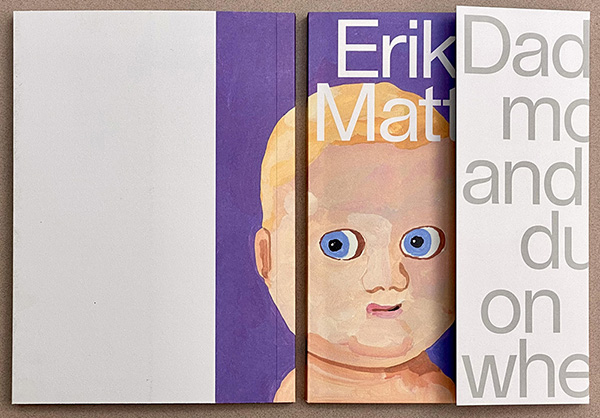 Dad's monkey and a duck on wheels
The Berlin Toys series that I made from January till July 2021 during my residency in the Livingstone Gallery Studio
are brought together in this book. Ninety four gouaches and an introductory text by Stefan Kuiper, edited and translated
by Roelien Plaatsman, designed by Andreas Studer - BAS Berlin.
https://bureaustuder.com/en/projects
For sale at Cokkie Snoei, Rotterdam, various bookstores in Amsterdam and by contacting me.
€ 20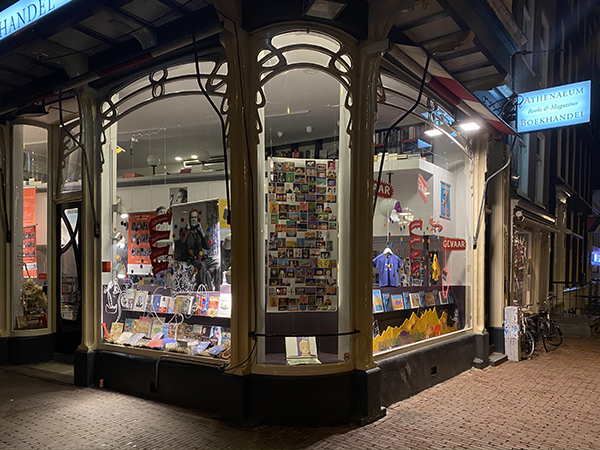 as presented in the shopwindow of Athenaeum Bookstore, Amsterdam december 2021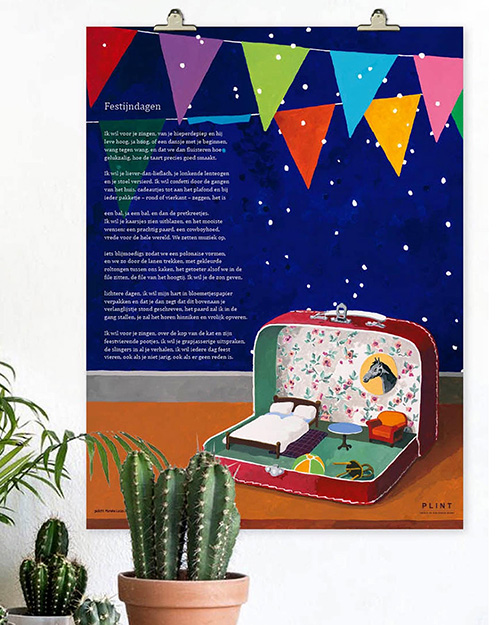 Plint verzocht me een gedicht van Marieke Lucas Rijneveld te illustreren en dat is een
mooie poster geworden. Te bestellen:
https://www.plint.nl/poezieposter-festijndagen-marieke-lucas-rijneveld-erik-mattijssen.html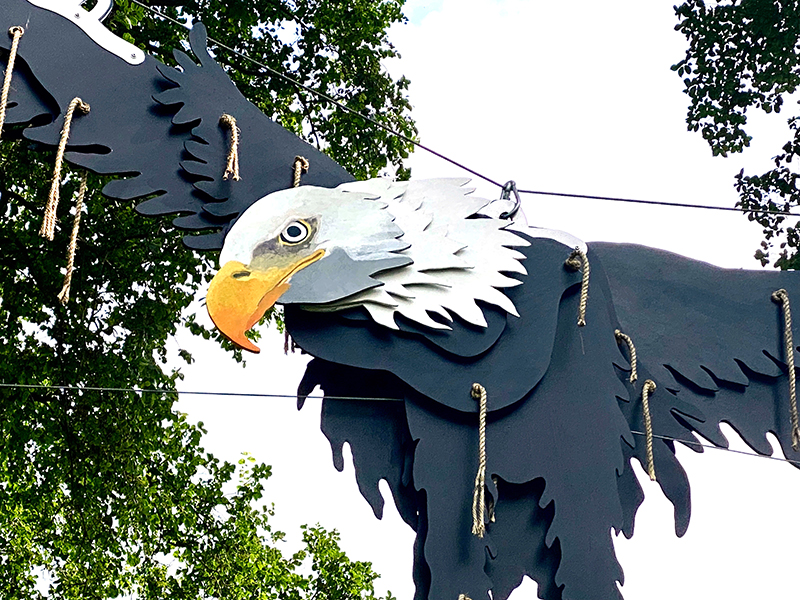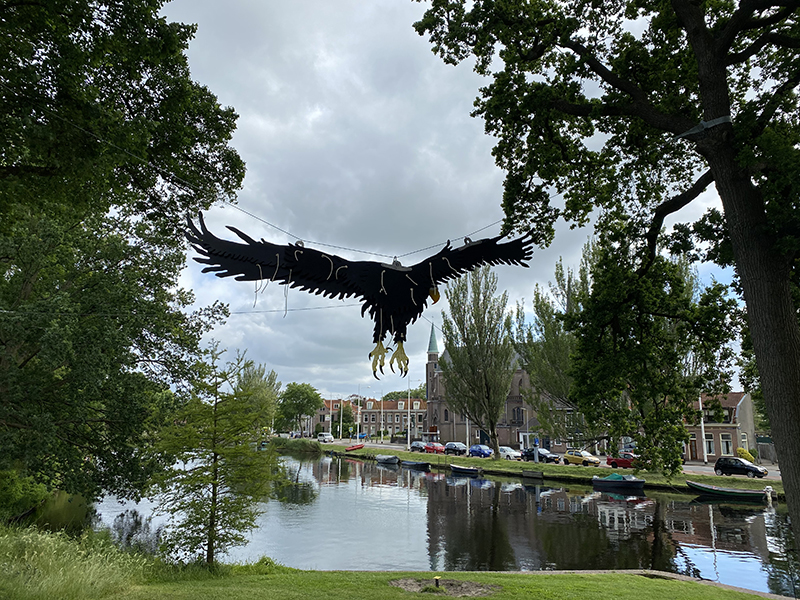 Primal Order in Alkmaar - in the open air exhibition TIERGARTEN - curated by Jaap Velserboer - to be seen till September 12 2021
https://www.kunstuitleenalkmaar.nl/tiergarten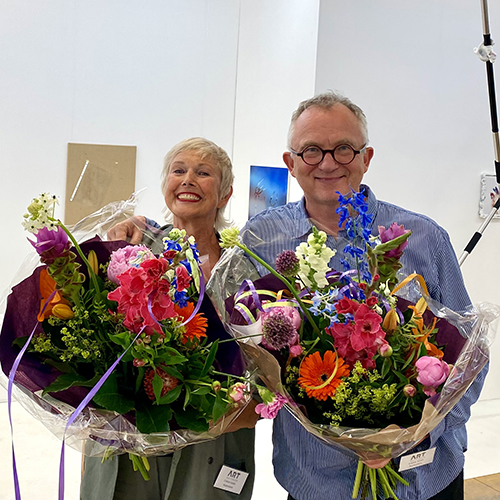 At Art Rotterdam, represented by Cokkie Snoei, i was the happy winner of both
NN (Nationale Nederlanden) art awards 2021. The professional jury and the public chose for me,
to my delight and surprise, being in the good company of three other nominees; Lilian Kreutzberger,
Claudia Martinez Garay and Priscila Fernandez .
Thank you very much NN Group!
NPO radio1 Kunststof invited me for an interview with Elisabeth van Nimwegen, now a podcast :
https://www.nporadio1.nl/podcasts/kunststof/56415/erik-mattijssen-kunstenaar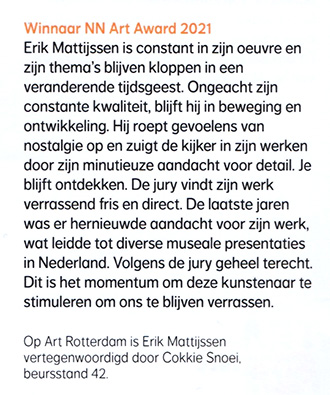 from the NN Art Award jury report
In the Summer edition of Art Rotterdam I will be represented
by Cokkie Snoei, and my work has been nominated for the
NN Art Award, to be seen at their stand.
From 1-4 July - with timeslot.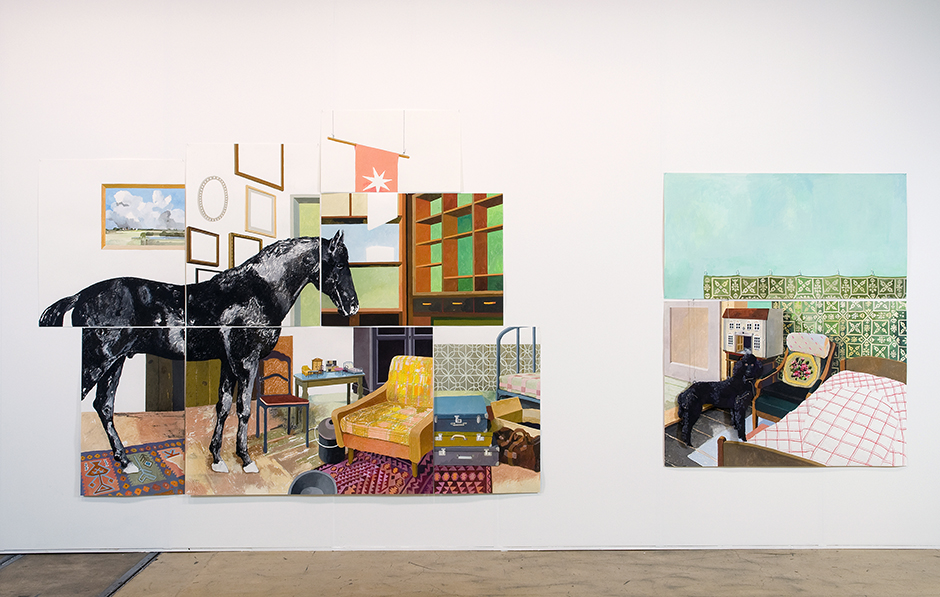 Zum Abschied en Des Pudels Kern in de NN Art Award stand - foto Thijs Quispel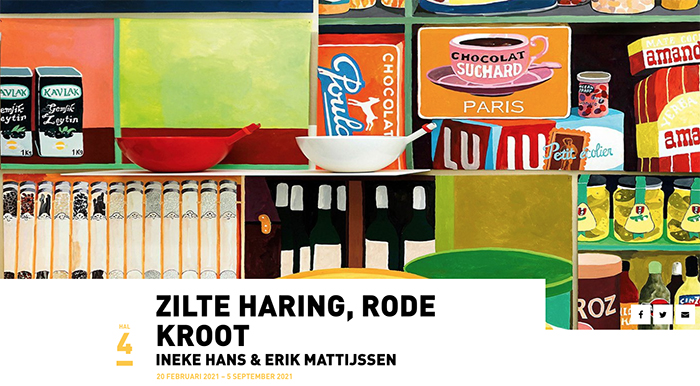 DE KUNSTHAL in Rotterdam shows 'Brined herring, red beet', a sequel to the exhibition 'Yellow as Lemon, red as tomato'
that was organized in Museum Het Valkhof in Nijmegen.
This time in eighteen colourful scenes, my work in relation to
that of furniture and product designer Ineke Hans.
Open as soon as possible - to be seen till September 5 2021
https://www.kunsthal.nl/en/plan-your-visit/exhibitions/brinedherring/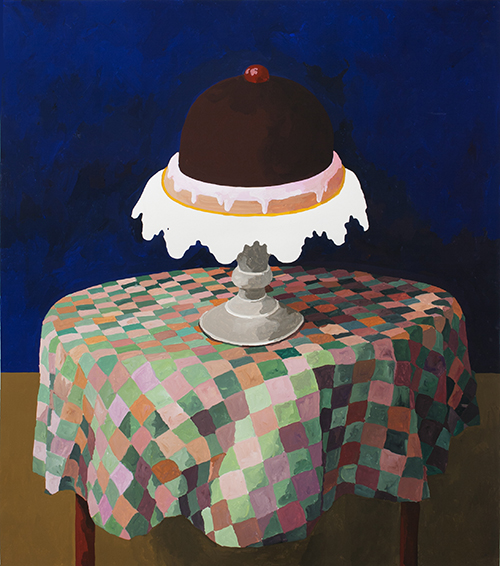 Dezi
2020
80 x 70 cm
to be seen now in galerie with tsjalling
Groningen
in the exhibition TAART (CAKE) in which 40 artists participate, to celebrate the gallery's tenth birthday!
Open till January 9 2021
for information check the site:
ULTRA POWER - 2020 - 237 x 197 cm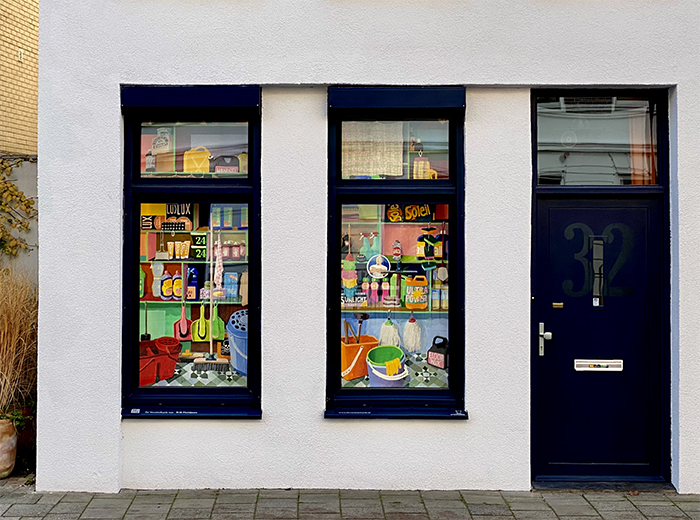 To be seen in Amersfoort, in the Bergstraat 32
https://www.devensterbank.nl/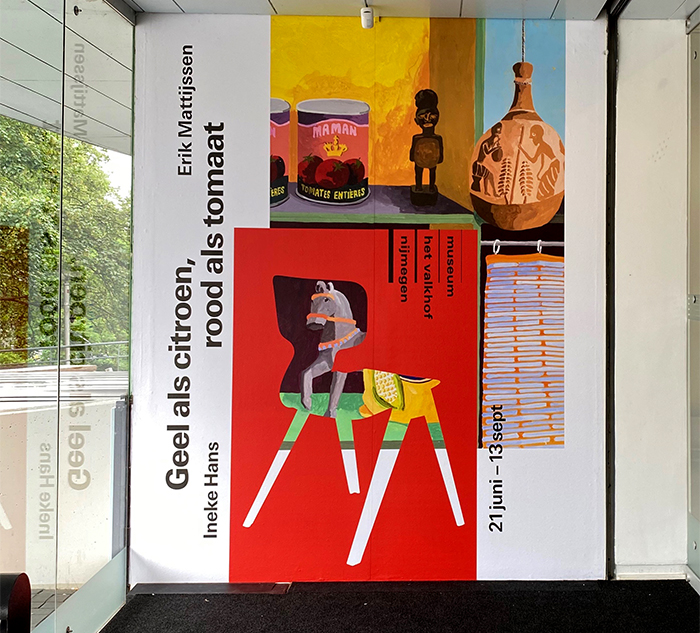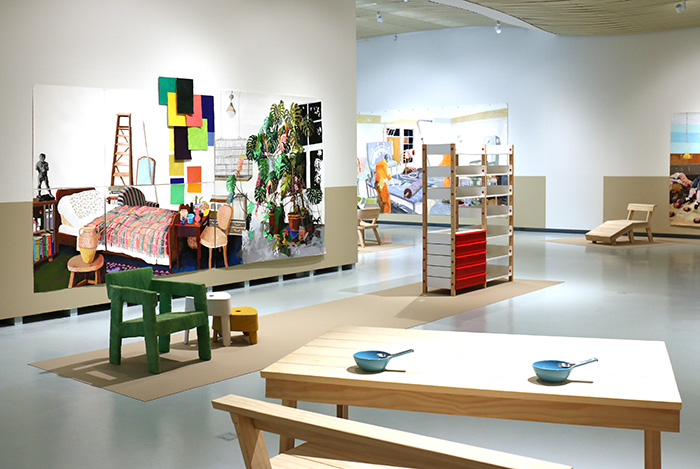 foto Sanne van Engen

In museum Het Valkhof in Nijmegen - pre-booking for a timeslot through the museum-site.
THE EXHIBITION HAS BEEN EXTENDED UNTIL JANUARY 31 2021
https://tentoonstellingen.museumhetvalkhof.nl/zien-en-doen/tentoonstellingen/geel-als-citroen-rood-als-tomaat/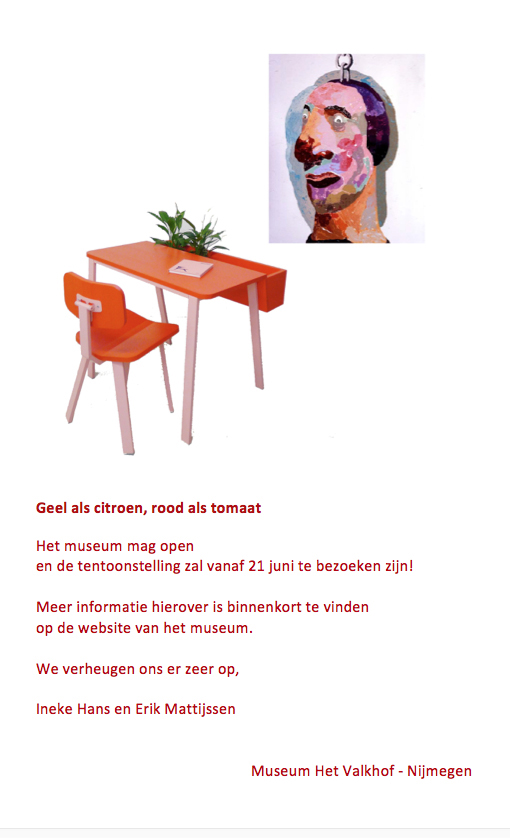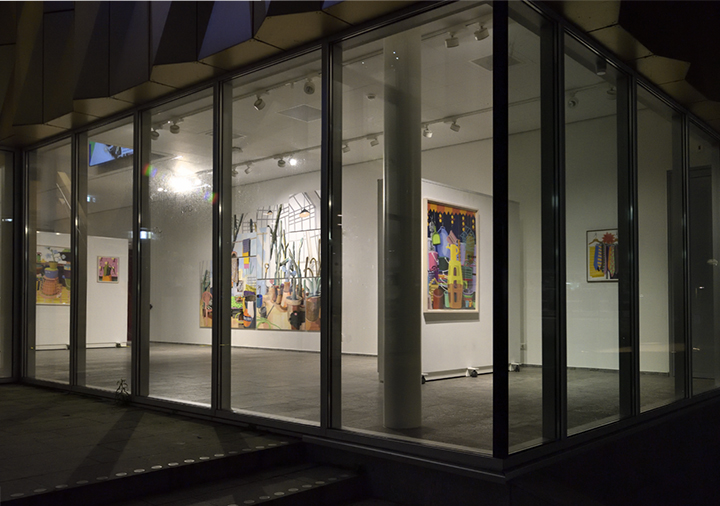 foto Gijs Heuff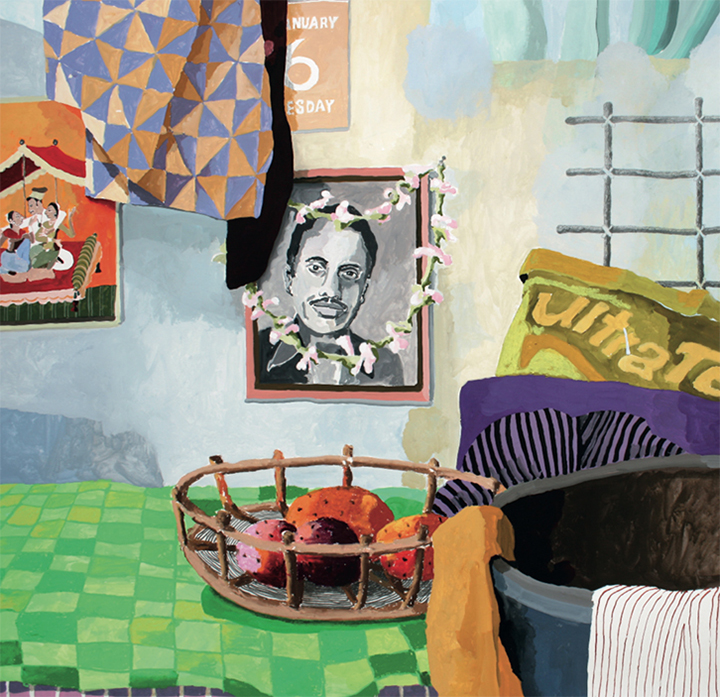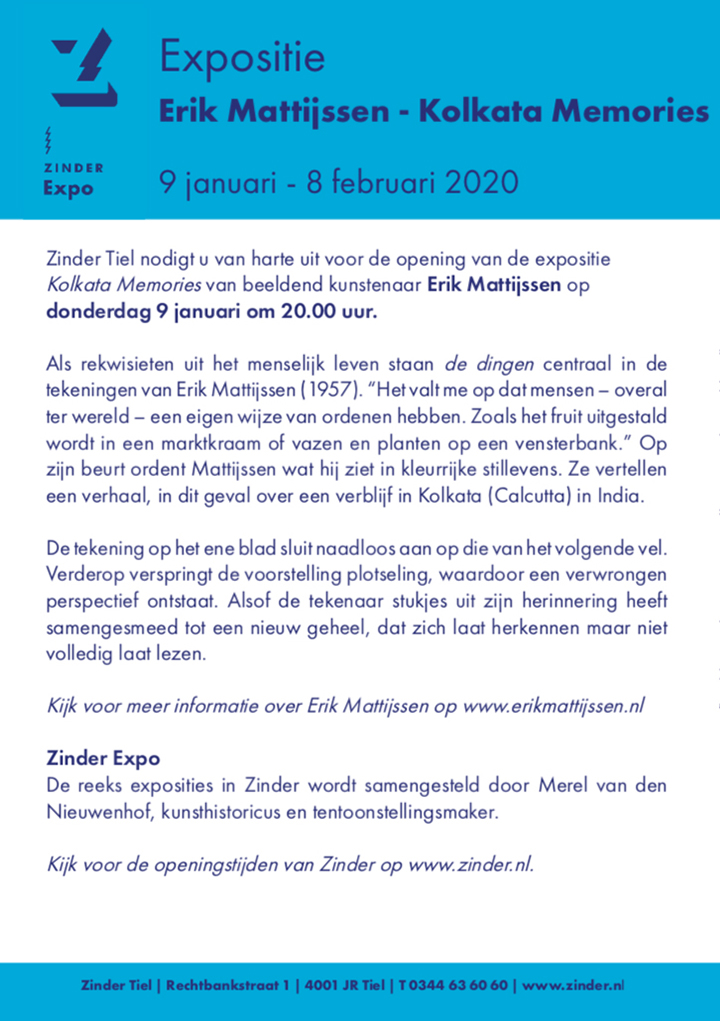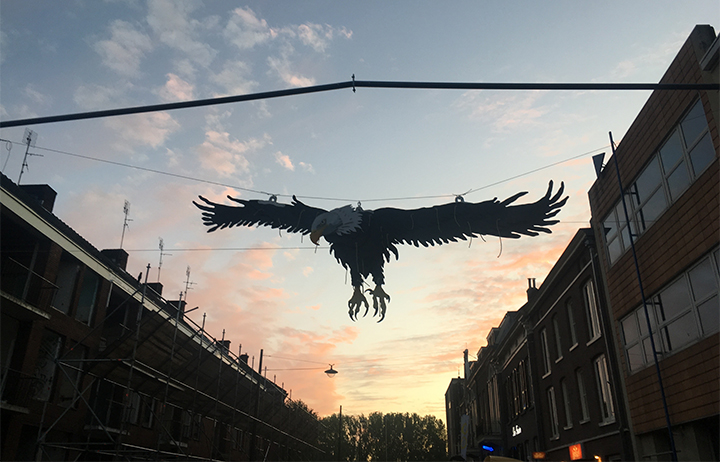 Primal Order 'Barend', in Arnhem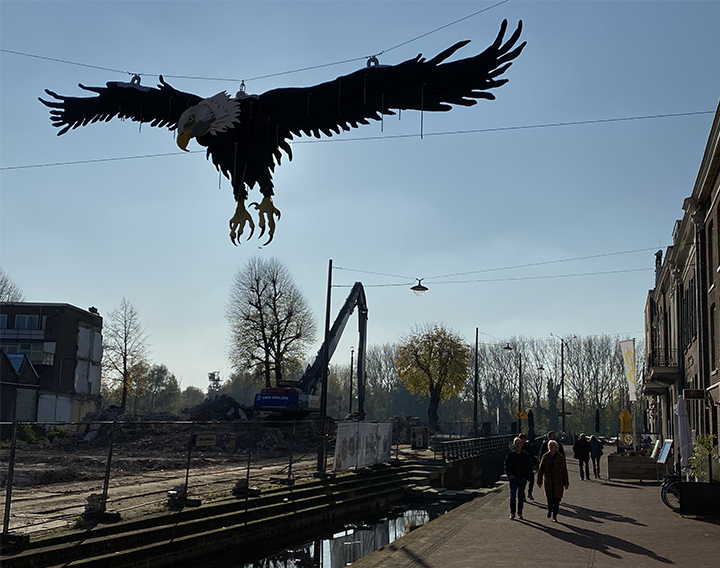 Domeniek Ruijters over de Biennale in MetropolisM.
http://www.metropolism.com/nl/features/39643_seelenwanderung_gelderland_bi_nnale_nijmegen_weekend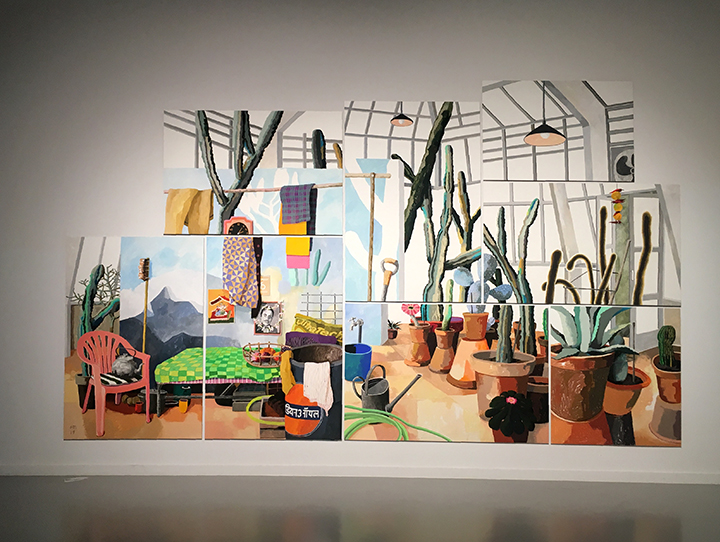 Kolkata Greenhouse in Museum Het Valkhof - Nijmegen
De eerste aankondiging van 'Seelenwanderung' rond de Sint Jansbeek in Arnhem:
https://www.arnhemsekoerier.nl/nieuws/algemeen/832191/biennale-gelderland-2019-seelenwanderung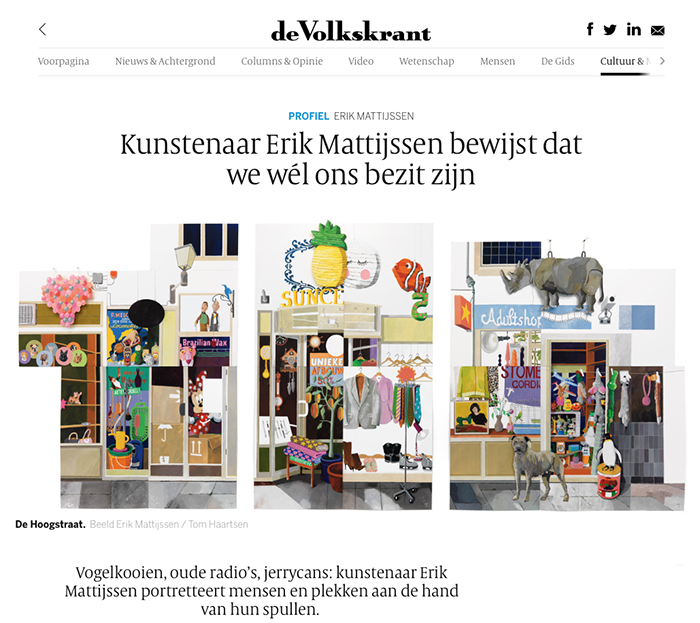 Twee artikelen naar aanleiding van de tentoonstellingen in Schiedam:
De Volkskrant - Stefan Kuiper
www.volkskrant.nl/cultuur-media/kunstenaar-erik-mattijssen-bewijst-dat-we-wel-ons-bezit-zijn~b48a1668/
De Groene Amsterdammer - Arjan Reinders
www.groene.nl/artikel/het-bed-van-m-n-tante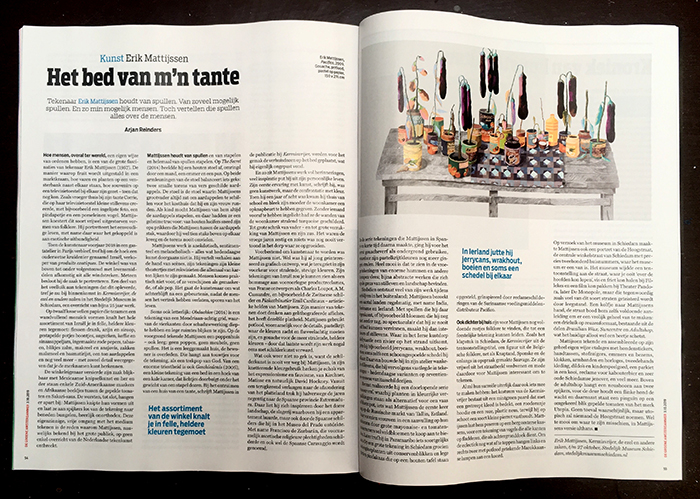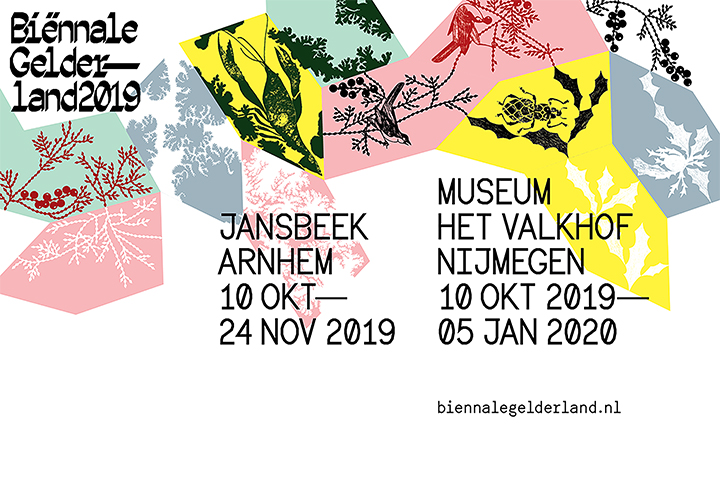 Two locations, outside and inside, Arnhem and Nijmegen - about man and nature - in the widest sense.
with: Rob Sweere, Aldwin Lehr, Gijs Verhoofstad, Erik Odijk, Gijs Frieling, Erik Mattijssen, Roos van Haaften,
Gerda ten Thije, Mirka Farabegoli, Thijs Linssen, Isolde Venrooy, Maria Roosen, Seet van Hout,
Karlijn Janssen, Rob Voerman en Frank Bruggeman.
Open from October 11 on.
My contribution in Arnhem: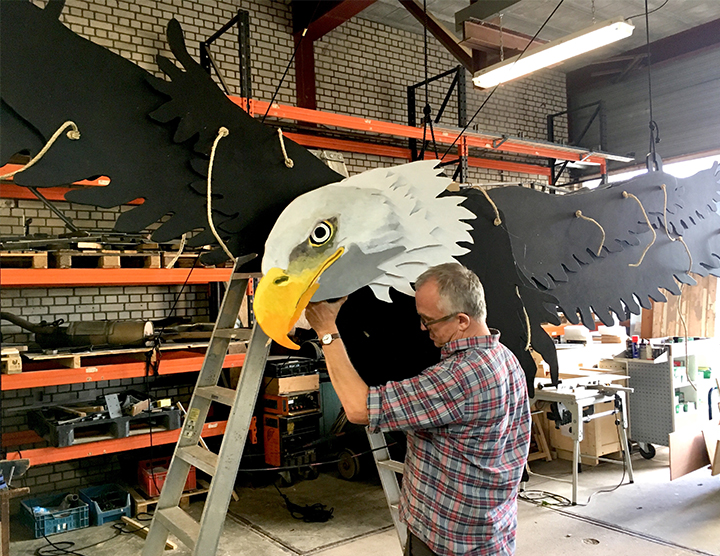 Primal Order 'Barend'
The big wooden bird under construction waiting for its location near the Rhine river.
NOW in Arnhem - Collectie De.Groen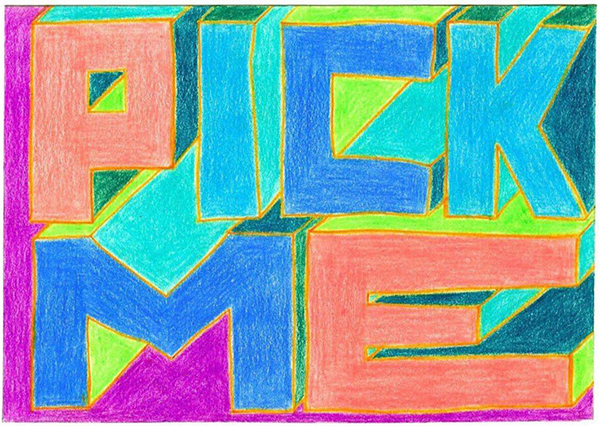 Koen Taselaar
We Like Art editions - 14 september / 22 december 2019
www.welikeart.nl
at Collectie De. Groen Weverstraat 40 6811 EM Arnhem open:
wed -12.00 - 17.00 hr
thursday-sunday 12.00 - 22.00 hr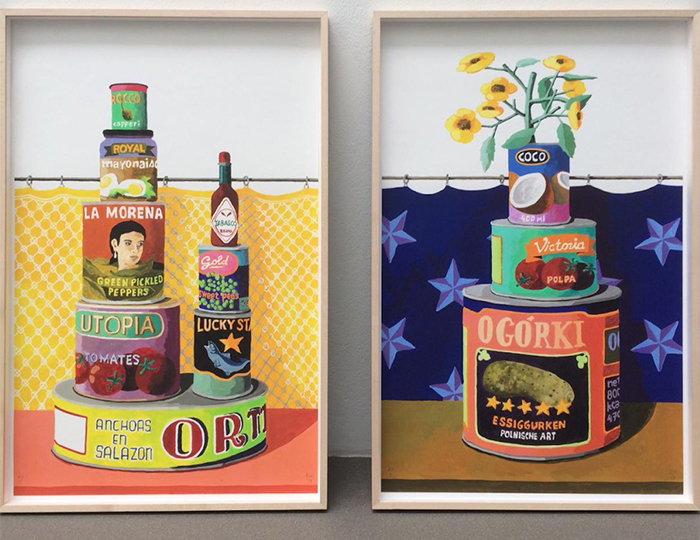 IN MARSEILLE:
Pareidolie - Salon International du dessin contemporain
August 30 - September 1 2019
with Galerie Jean Brolly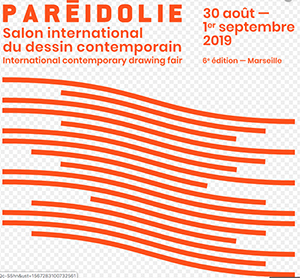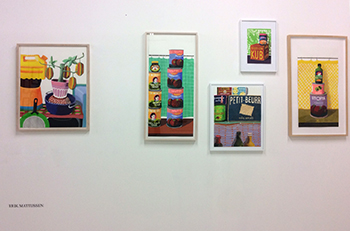 A SOLO SHOW IN SCHIEDAM:
(until October 27)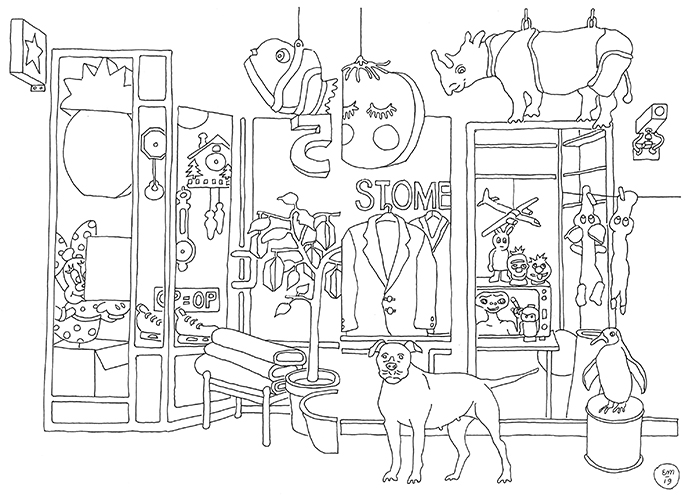 Colorplate for children, 'In de Hoogstraat'. Stedelijk Museum Schiedam
Opening April 26 at 8.00 pm
in Arti et Amicitae - Rokin 112 Amsterdam
Exhibition from April 28 - May 26 2019
Tuesday-Sunday 12 - 6 pm
accompanied by Marianne Roodenburg and Fransje Killaars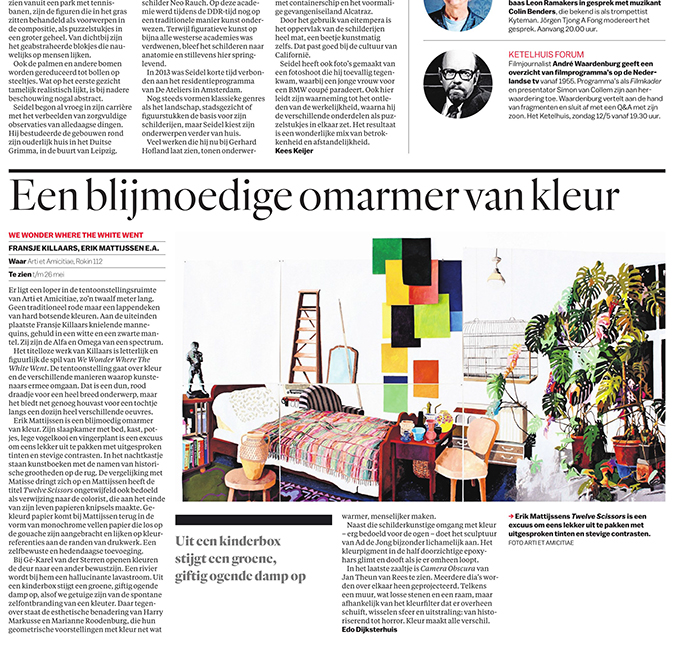 Het Parool 10 mei 2019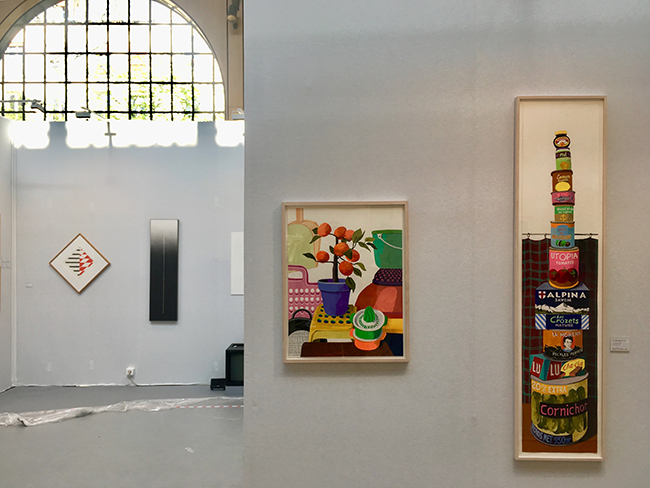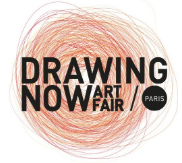 With Galerie Jean Brolly - Paris
at the Drawing Art Fair, Carreau du Temple - Paris
from March 27 - 31 2019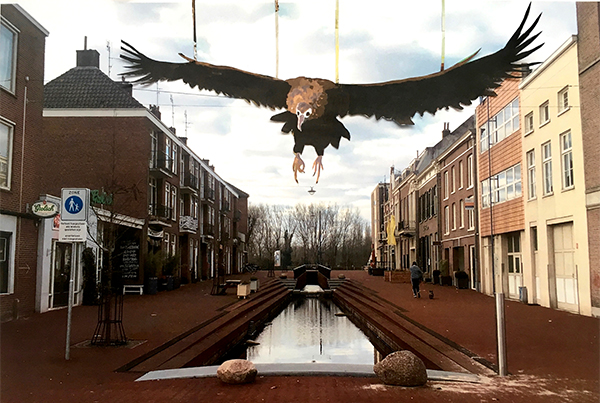 'Het is stil in de stad', a plan for the Bienial Gelderland, in situ, Arnhem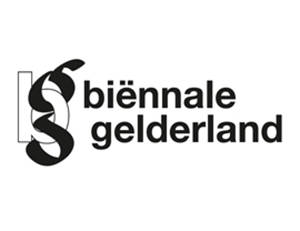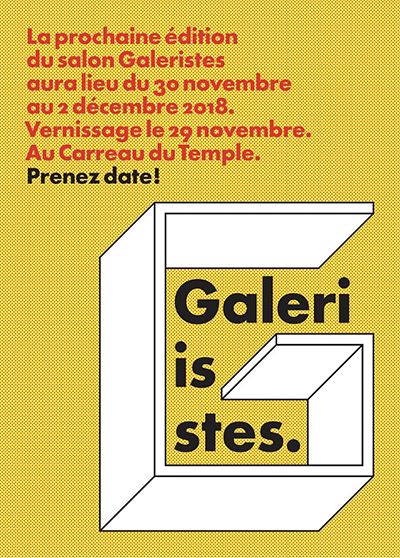 With Galerie Jean Brolly — www.jeanbrolly.com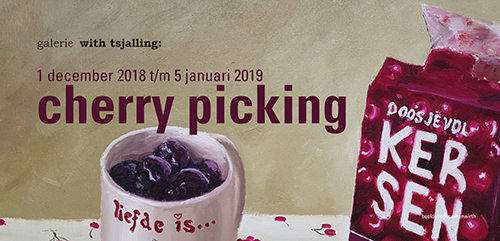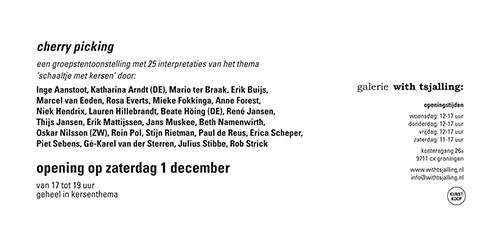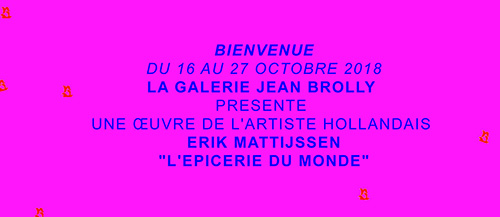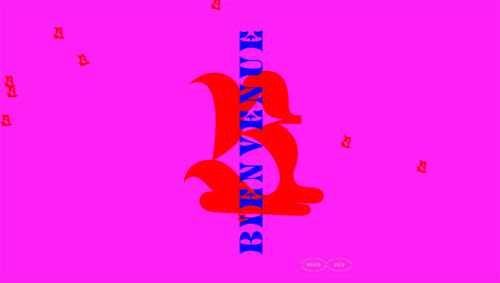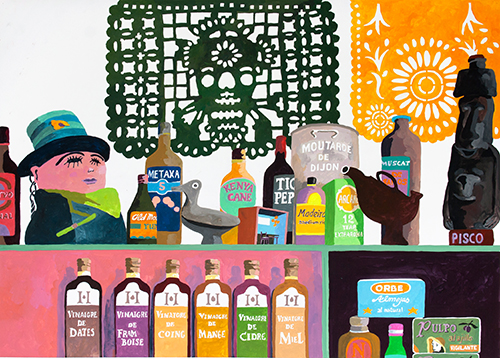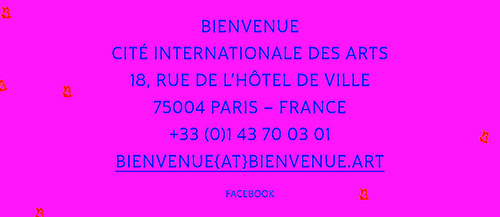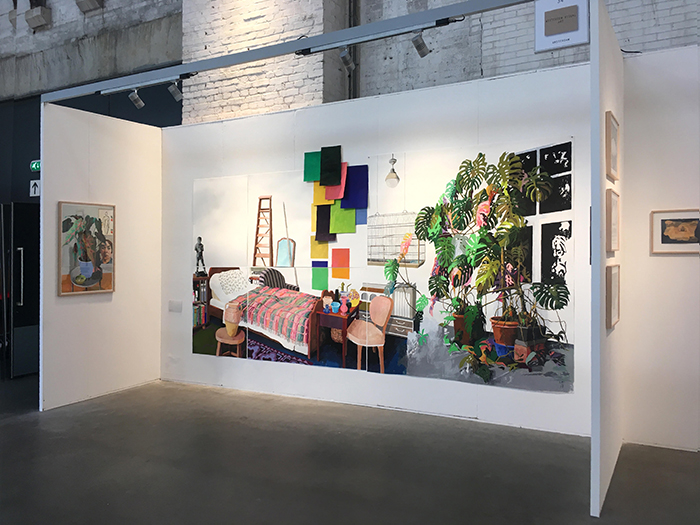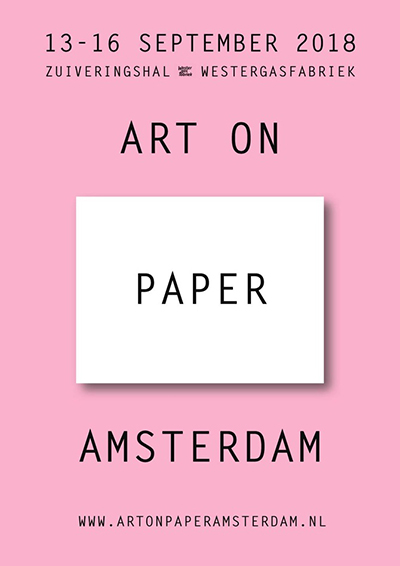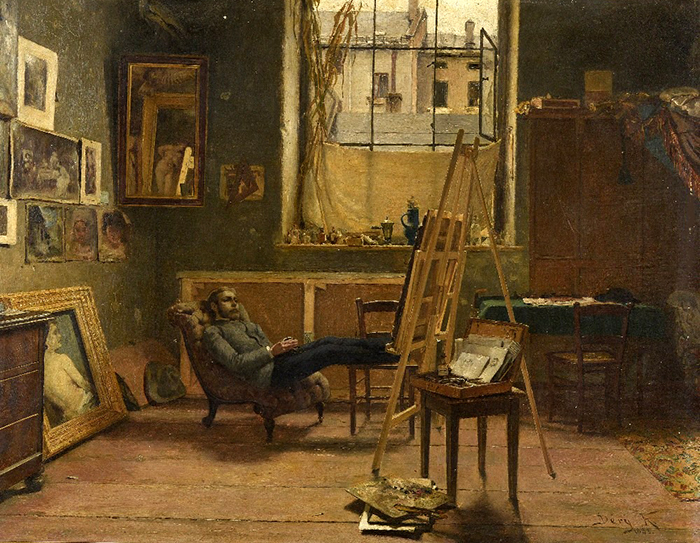 PARIS
From February 1 till August 1 2018 I will take part in the residency program of
the Cité Internationale des Arts in Paris, granted by the The Mondriaan Fund.
The Fund is a national cultural funding organization focusing on visual arts and cultural heritage.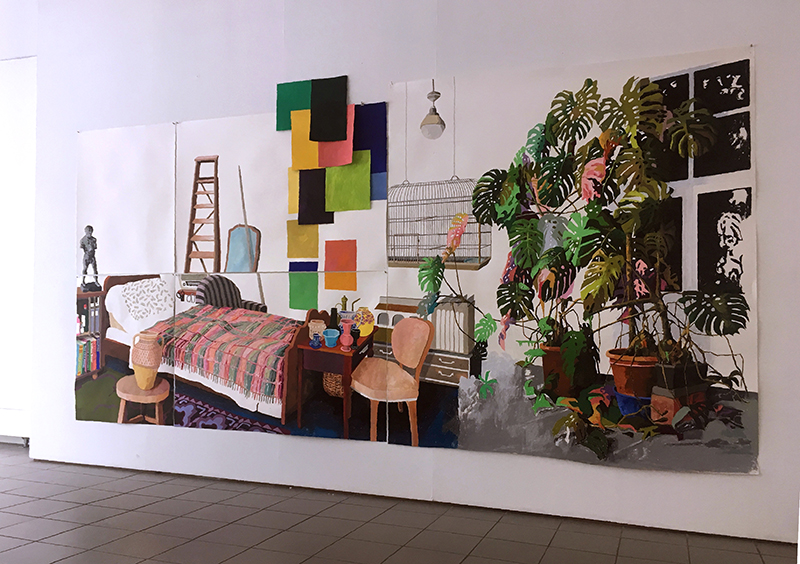 Twelve Scissors
240 x 430 cm
To be seen at 'Art on Paper', with Witteveen-Visual Art, Westergasfabriek Amsterdam
13-16 september 2018
http://www.artonpaperamsterdam.nl
OPENING 13 september 2018 at 5 pm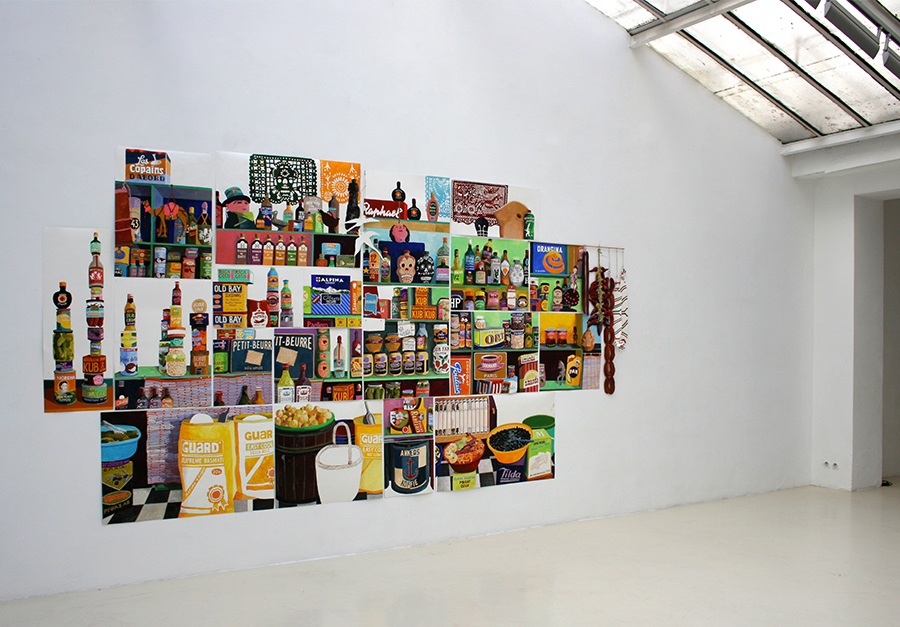 L'épicerie du monde - 258 x 406 cm at Galerie Jean Brolly - Paris
To be seen at 'Bienvenue' a new art fair in Paris, from October 15-27,
with Galerie Jean Brolly
OPENING 15 october 5 pm
http://www.bienvenue.art/subscribe/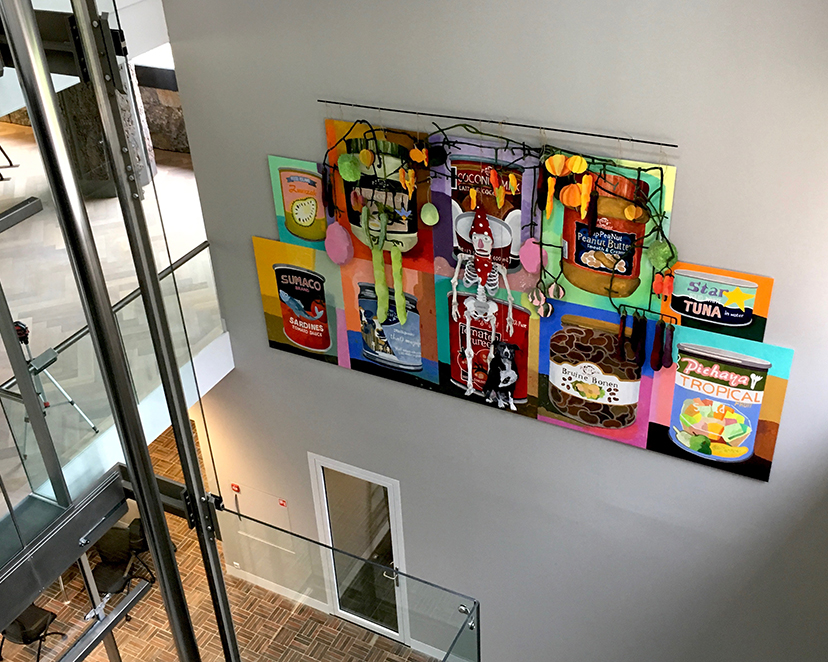 'Levensmiddel' installed at LAM Lisse, the new museum centered around the theme of food and consumption, May 2018
opens in the fall.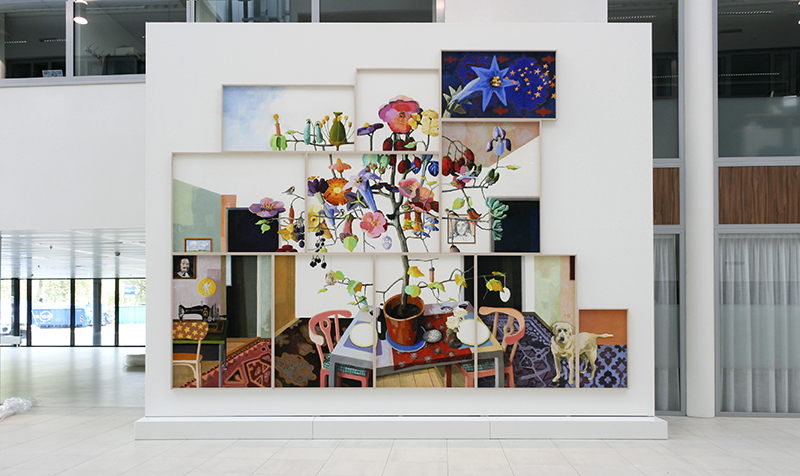 'Levenslied'
in the new wing of the Cancer Institute, Antoni van Leeuwenhoek, Amsterdam
that opened on November 2, 2017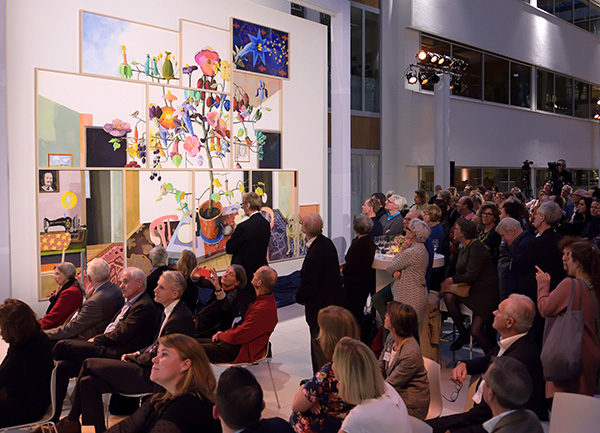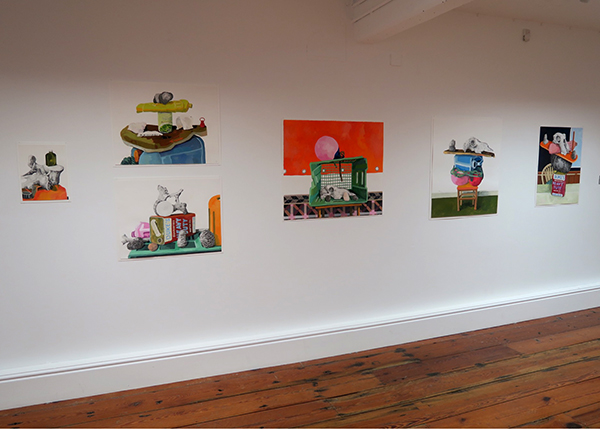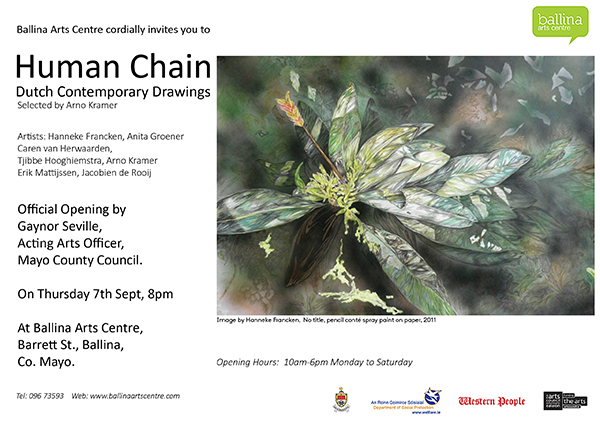 A groupshow with seven residents of the Ballinglen Arts Foundation, Ireland,
in the Ballina Arts Centre.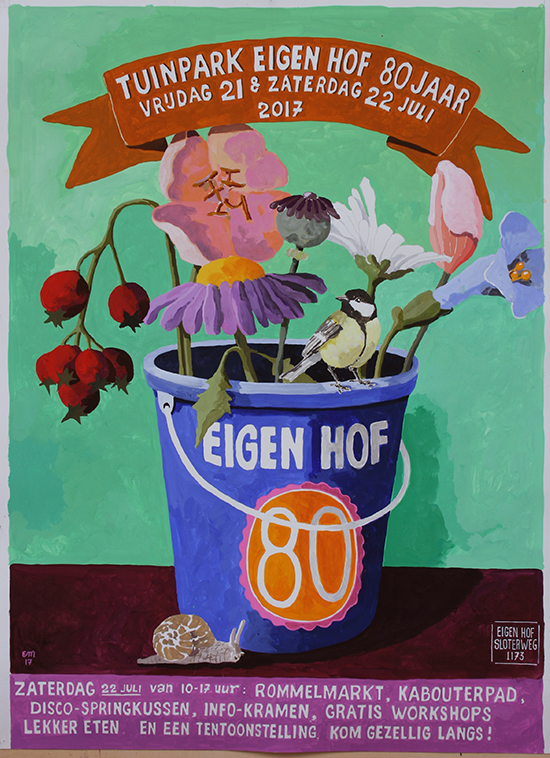 Poster to celebrate the 80th birthday of the allotment-complex Eigen Hof
where my grandparents started their fruit- and vegetable garden back in 1939
and where I still have that same, small datsja.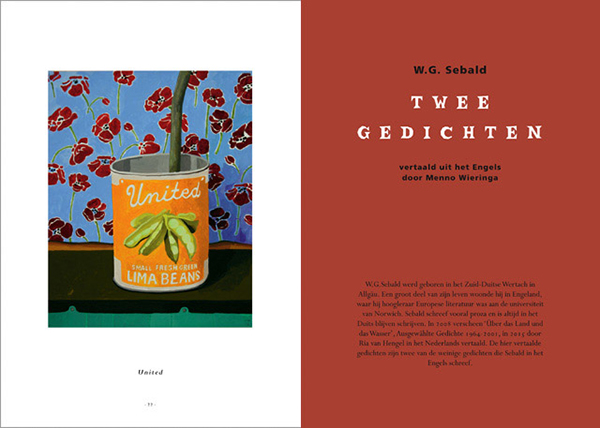 TORTUCA - # 39 -magazine for literature and fine art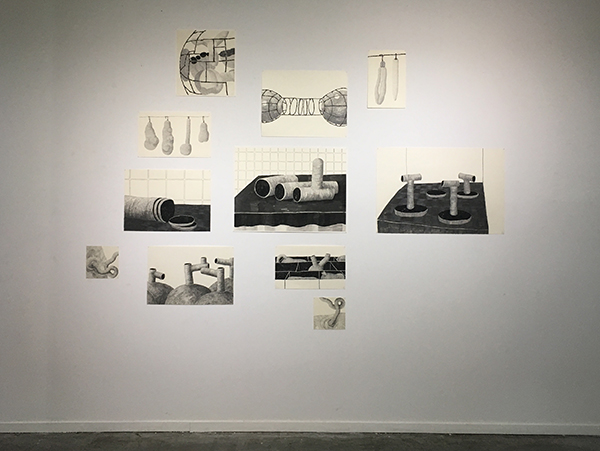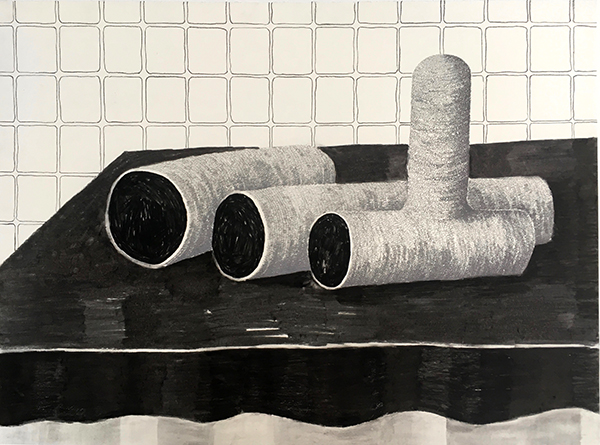 The black and white series from 1992/1993 shown at: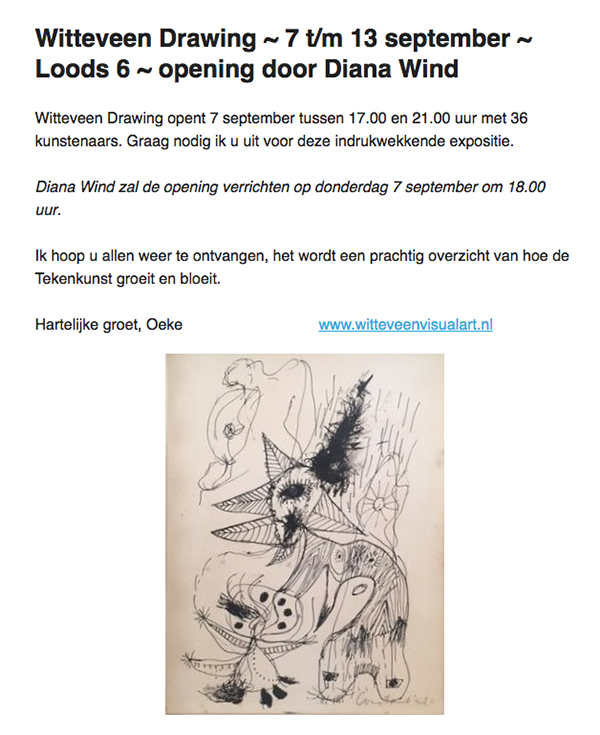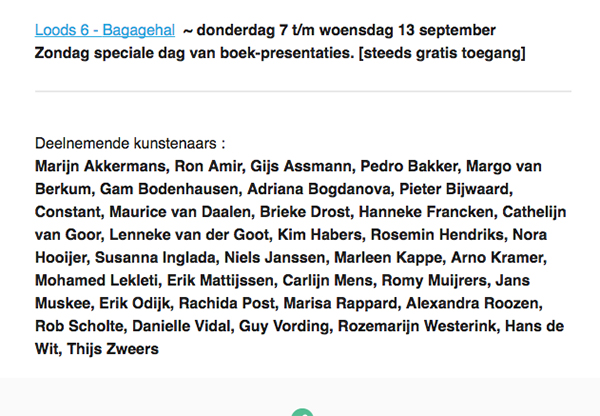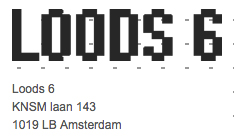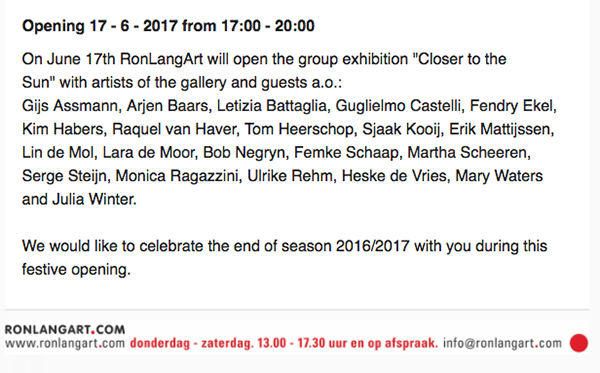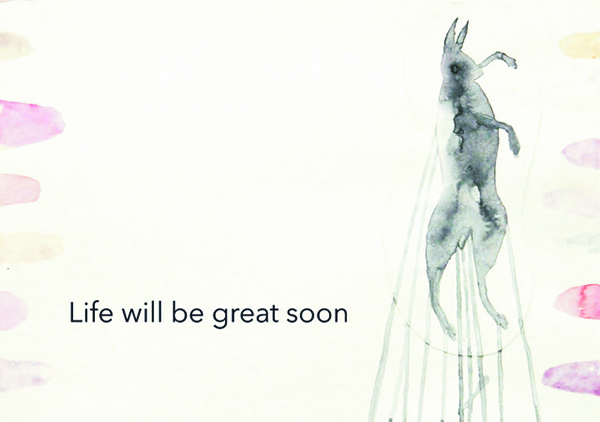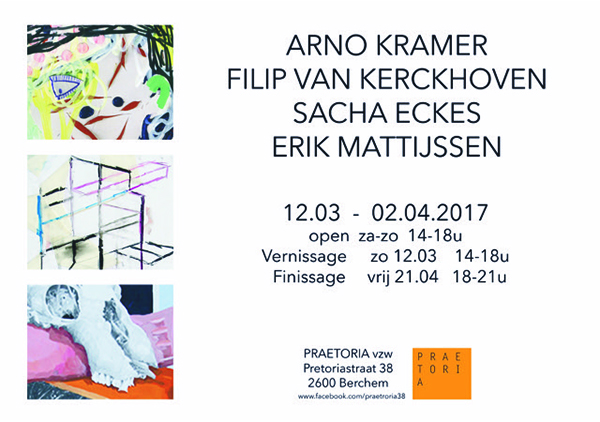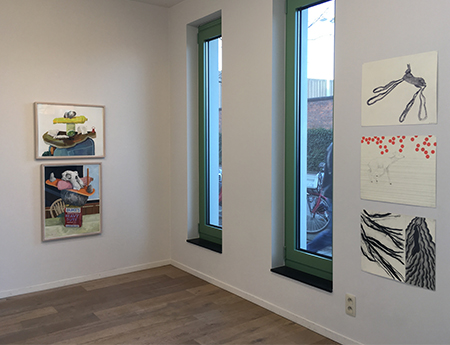 met werk van Arno Kramer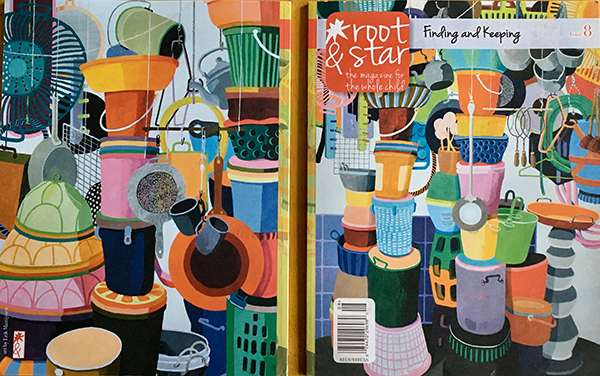 Root and Star, a magazine for children, issue 8, USA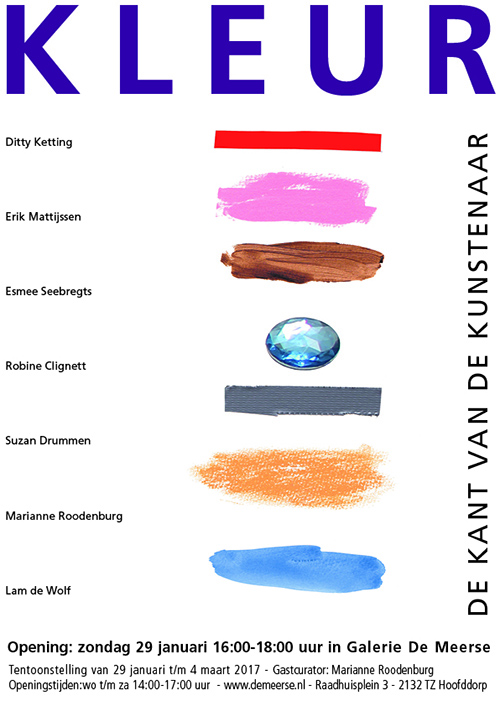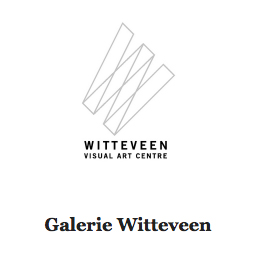 A TEMPORARY FAREWELL SHOW
Ron Amir | Karin Arink | Gijs Assmann | Pedro Bakker | Wout Berger | Diana Blok |
Gam Bodenhausen | PJ Bruyniks I Robbie Cornelissen I Noor Damen I Frans Franciscus I
Anna Frydman I Anita Groener I Lenneke van der Goot I Rosemin Hendriks I
Wout Herfkens I Tjibbe Hooghiemstra I Nour-Eddine Jaram I Esther Jiskoot I
Marleen Kappe I Iris Kensmil I Paul Klemann I Arno Kramer I Erik Mattijssen I
Romy Muijrers I Rinke Nijburg I Paul de Reus I Wouter van Riessen I Eva Roovers I
Nicole Schulze I Roland Sohier I Gerda Ten Thije I Charles Vreuls I Hans de Wit
van 14 januari t/m 11 februari 2017
Opening: zaterdag 14 januari van 16.00 tot 19.00 uur
Oeke Witteveen ~ Konijnenstraat 16 A ~ 1016 SL Amsterdam ~ 020 - 623 96 84 ~
Conserveermiddelen – Erik Mattijssen
12 november t/m 10 december 2016
http://www.withtsjalling.nl/conserveermiddelen
Opening op zaterdag 12 november, van 17 – 19 uur,
met om 17.15 uur een kunstenaarsinterview door Daphne Verberg,
masterstudent kunstgeschiedenis
Kostersgang 26-a
9711 CX Groningen
woensdag - vrijdag 12 - 17
zaterdag 11 - 17
en op afspraak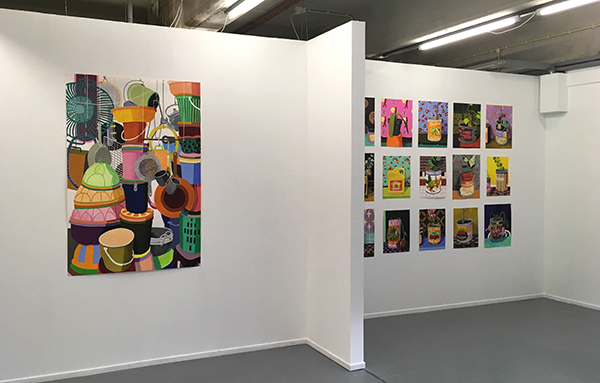 BIG ART
50 OVERSIZED ARTWORKS IN THE 'DIAMANTBEURS'
Weesperplein 4 Amsterdam
19-27 November 2016
Open:
Fr, Sa, Su: 11-7 pm
Mo, Tu, We, Th: 12 - 6 pm
'Handelsbelang' seen through an installation by Krijn de Koning
Opening met Astrid Roemer op 2 oktober 16.00 uur

Tentoonstelling van 2 oktober tot 13 november 2016
Met: Razia Barsatie, Christiaan Bastiaans, Ruben Cabenda, Annemarie Daniel,
Moritz Ebinger, Neil Fortune, Rinaldo Klas, Trimo Kromotaroeno, Ellen Ligteringen /Rutger Lem,
Frank Mandersloot, Erik Mattijssen, Marcel Pinas, Tammo Schuringa, Roos Theuws, en Ton Zwerver



Nieuw Dakota
Ms v Riemsdijkweg 41b
1033 RC Amsterdam



donderdag en vrijdag 11 – 18 uur
zaterdag en zondag 12 - 18 uur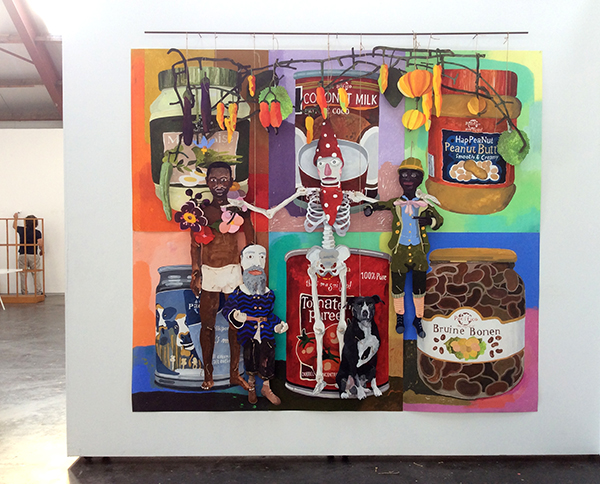 Amsterdam Drawing
Contemporary Art on Paper
22 – 25 September 2016
At Witteveen Visual Art

Donderdag 22 september | 11.00 - 19.00 uur
Vrijdag 23 september | 11.00 - 19.00 uur
Zaterdag 24 september | 11.00 - 19.00 uur
Zondag 25 september | 11.00 - 17.00 uur
ADRES
NDSM-Plein naast nr. 28
Friday September 30 5 - 7 pm
INNER CITY
PERIOD: September 30 - October 28, 2016
OPENING: Friday September 30, 5 – 7 pm
LOCATION: Marineterrein Amsterdam, Gebouw 025 (Officiersverblijf)
VISIT: Thursday's and Friday's and by appointment
Participants:
Gijs Assmann,Wiel Arets Architects, Aldo van den Broek, Petra Blaisse/Inside Outside, Robbie Cornelissen,
Eva Crebolder, Anita Duyvis, Jean Bernard Koemans, Krijn de Koning, Jeroen Kramer, Erik Mattijssen,
Alexa Meyerman, MVRDV, NL Architects, Liesbeth van der Pol, RAAAF, Sandro Setola, Agniet Snoep
Marjan Teeuwen, Berend Strik, XS Architecture, Edwin Zwakman.
Cityscapes Foundation
Bastiaan Gribling and Noortje Tan
http://cityscapesgallery.nl/nl_NL/INNER+CITY/84/343/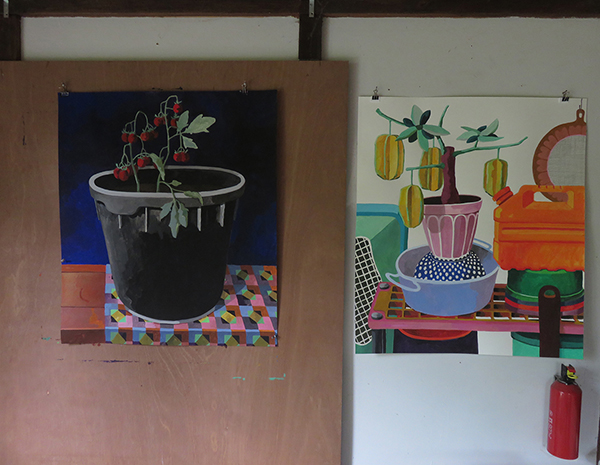 Tekeningen bij Witteveen Visual Art Centre
van 3 t/m 24 september 2016
Opening op zaterdag 3 september tussen 16.00 en 18.00 uur.
Met werk van:
IRIS KENSMIL
GOPAL DAGNOGO
RIËTTE WANDERS
HERMAN ZEINSTRA
ERIK MATTIJSSEN
DEWI HOPPE
ANNA RUDOLF
pietsjanke fokkema
CAREN VAN HERWAARDEN
CAROLINE SERTON
ARNO KRAMER
LENNEKE VAN DER GOOT
KIM STREUR en
GAM BODENHAUSEN
Witteveen visual art centre
Konijnenstraat 16a
1016 SL Amsrterdam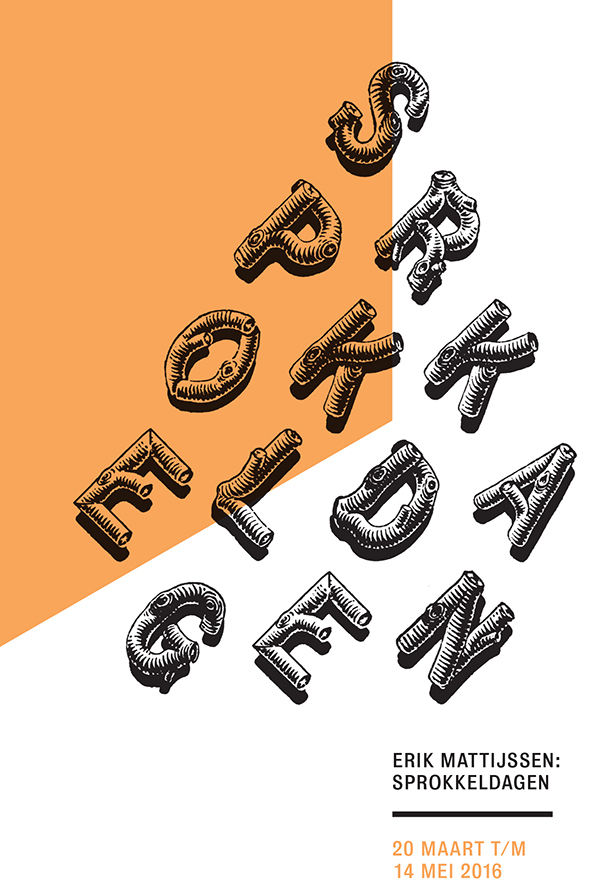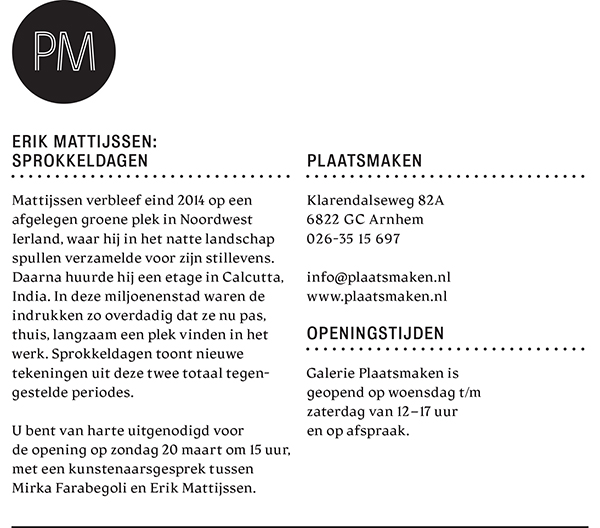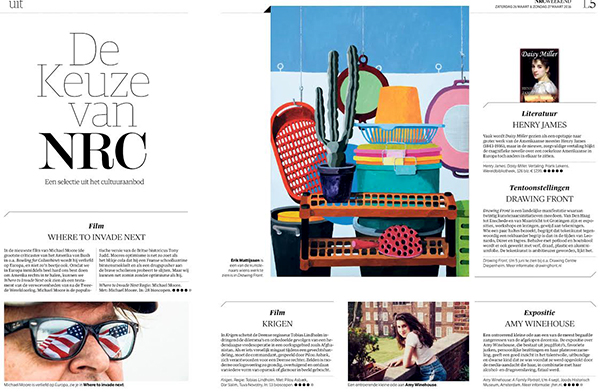 NRC - 26 maart 2016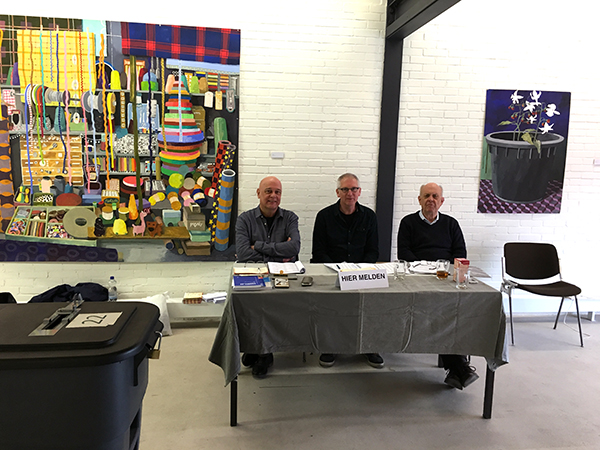 foto Inge Pollet - Plaatsmaken als stemlokaal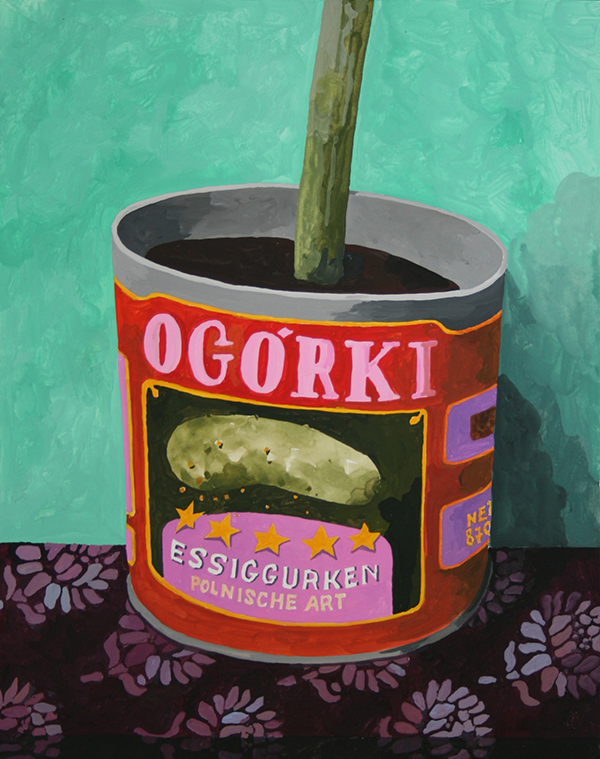 Extra large and extra small





Witteveen Arts Centre

Opening op zaterdag 5 maart


van16-18 uur





met:




Arno Kramer
Geer van der Klugt
Jacobien de Rooij
Hans de Wit
Jans Muskee
Gam Bodenhausen
Ron Amir
Erik Mattijssen


Charles Vreuls
Romy Muijers
Anne Semler
Brieke Drost
Anya Janssen
Lenneke van der Goot
Marleen Kappe

5 maart -3 april

Witteveen visual art centre

Konijnenstraat 16 A - 
1016 SL Amsterdam 
tel. +31 (0)20 623 96 84 
open: dinsdag t/m zaterdag 12 - 6 uur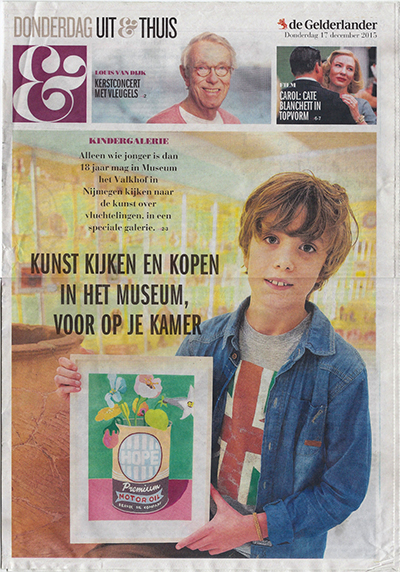 Productiehuis Plaatsmaken uit Arnhem heeft 15 Nederlandse kunstenaars gevraagd om
een nieuw werk op A4 formaat te maken, geïnspireerd op het thema 'vluchtelingen'.
De 15 werken zijn in beperkte oplage gedrukt en zijn zowel in CODA Museum in Apeldoorn
als in Museum Het Valkhof in Nijmegen te zien. Er is een speciale galerie ingericht waar alleen
kinderen naar binnen mogen en een werk kunnen kopen. Een gedeelte van de opbrengst
gaat naar Vluchtelingenwerk Nederland. Van de werken is ook een kleurboek gemaakt,
dat in grote oplage verspreid wordt onder kinderen in asielcentra die zojuist zijn aangekomen
in Nederland . Royal Talens Nederland zorgt voor de kleurpotlodendozen!
De deelnemende kunstenaars zijn: Harmen Liemburg, David Bade, Gerda ten Thije, Joost Bakker,
Mirka Farabegoli, Charlotte Schleiffert, Hester Oerlemans, Vanessa Jane Phaff, Paul de Reus,
Wouter van Riessen, Erik Mattijssen, Anan Striker, Kinke Kooi, Louise te Poele en Ada Dispa.
Van 13 december 2015 tot 16 januari 2016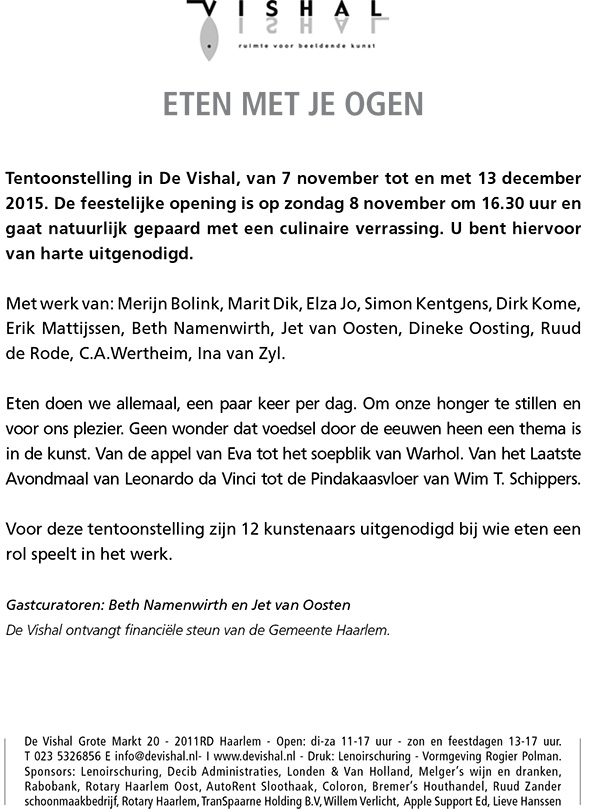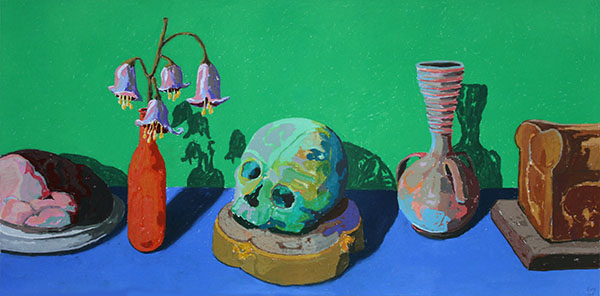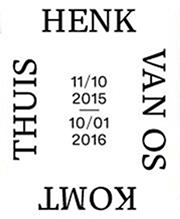 HENK VAN OS KOMT THUIS in museum Jan Cunen in Oss.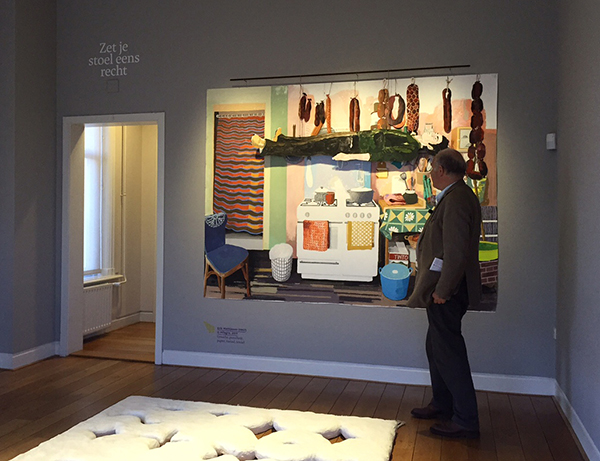 Een tentoonstelling met veertig werken uit de collectie van het museum,
van heiligenbeelden tot zaalvullende installaties, geselecteerd door Henk van Os.
te zien tot en met 10 januari 2016
van dinsdag t/m zondag van 12.30 tot 16.30 uur.



Isaac Israels zonder datering

Thérese Schwartze 1911

Natasja Kensmil 2003

Adriaan de Lelie1809

Paul de Reus 2007

Andreas Schelfhout 1839

Johannes Lodewijk Kleijn 19de eeuw

Willem de Zwart 1900

Théophile de Bock 1893

Willem Adriaan van Konijnenburg 1907

Marinus Boezem 1985

Erik Andriesse 1988

Erik Odijk 2000

Willem Witsen 1900

Martine Stig 2002

Robbie Cornelissen 2000

Klaas Gubbels 1969

Jeroen Henneman 1992

Pieter Engels 1964


Erik Mattijssen 2011

Hans van Hoek 1992/93

Marc Mulders 1992

Jan Dibbets 1967

Carel Visser 1989

Kees de Goede 1998

Han Schuil 2007

David Bade 2007

Graham Hudson 2008

Een beeld van Sint Rochus 17de eeuw

Een beeld van Sint Willebrordus 1780

Johannes Bosboom 1866

Lisa Couwenbergh 1988
en Jan Toorop 1892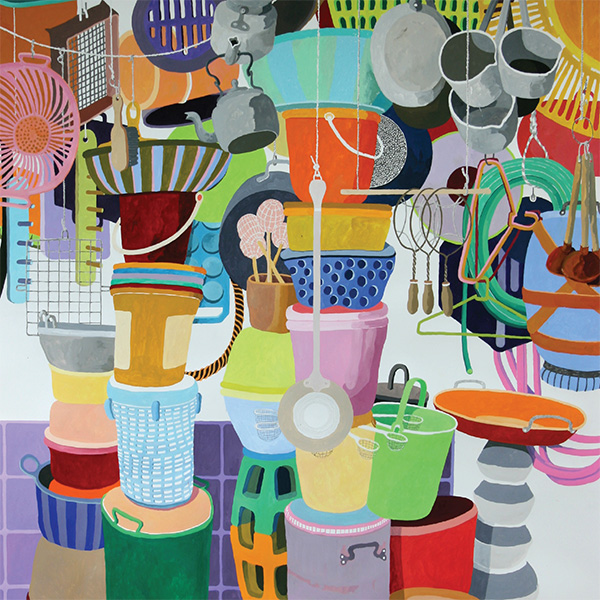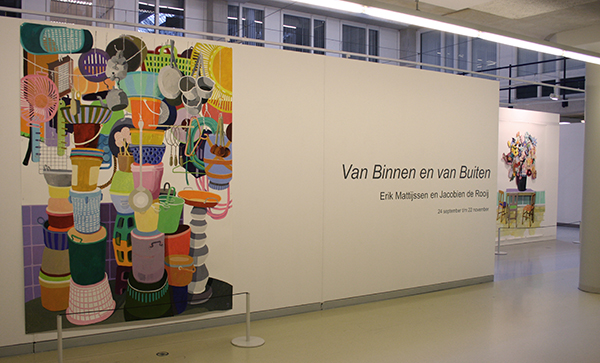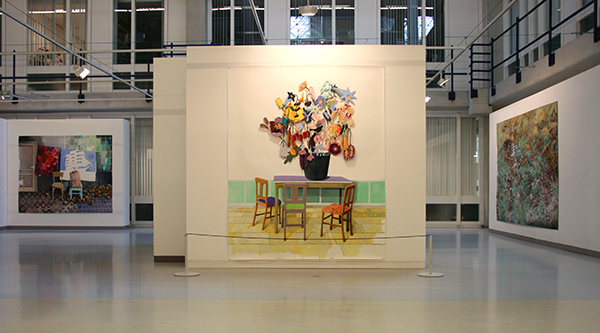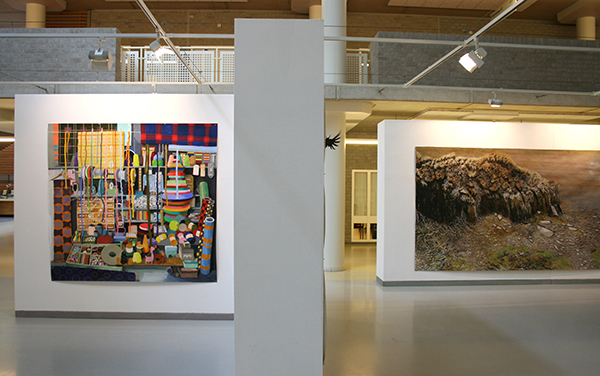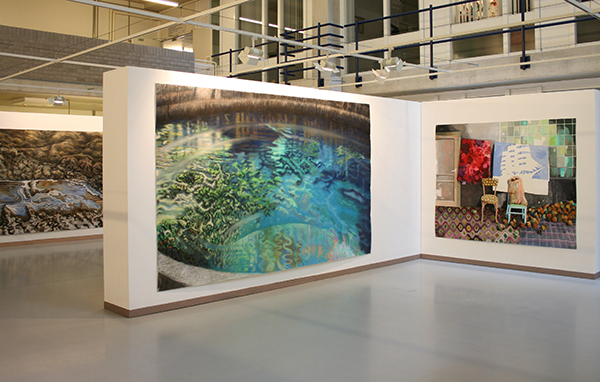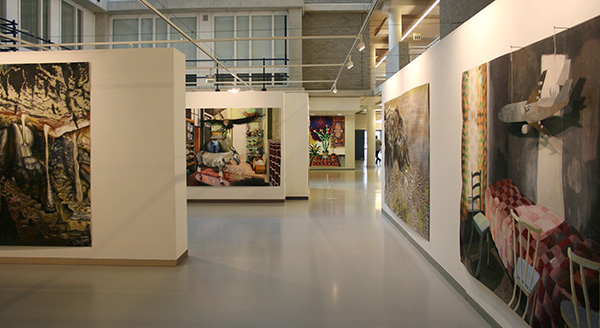 Jeanne Prisser in de Volkskrant van vrijdag 2 oktober: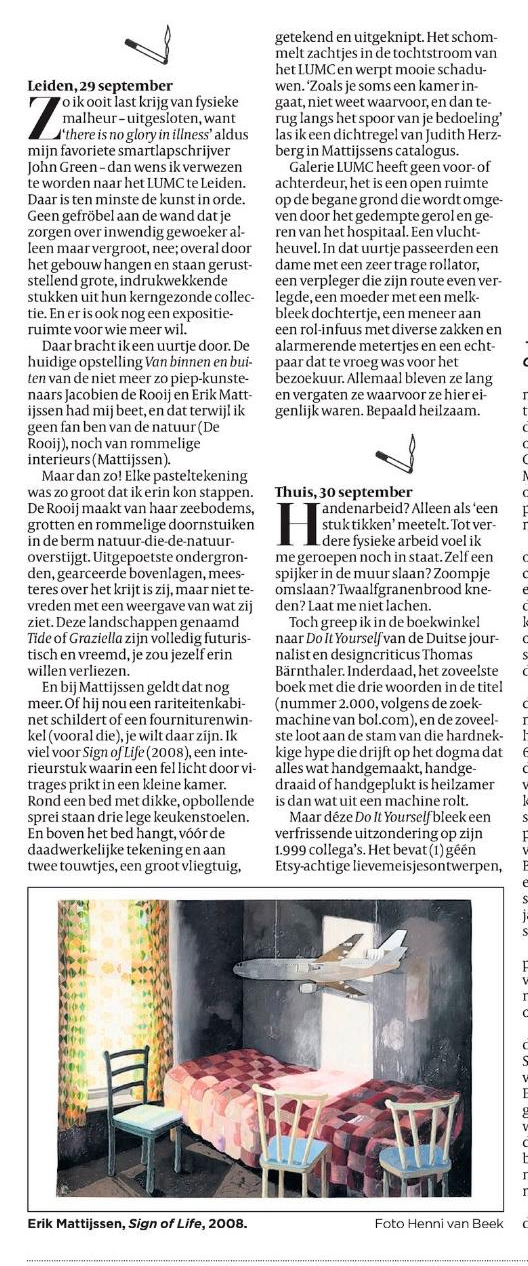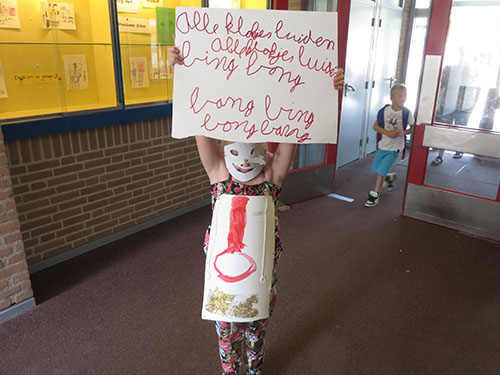 KLOKKIJKEN
In opdracht van Muzelinck Oss werkte ik een dag met 100 leerlingen uit
groep 5 en 6 van basisschool de Polderhof. Kunst op school!
Ze maakten allemaal een draagbare klok.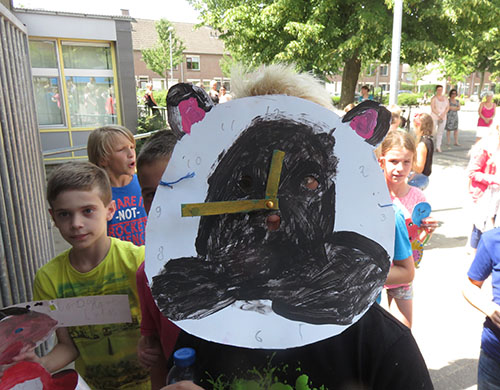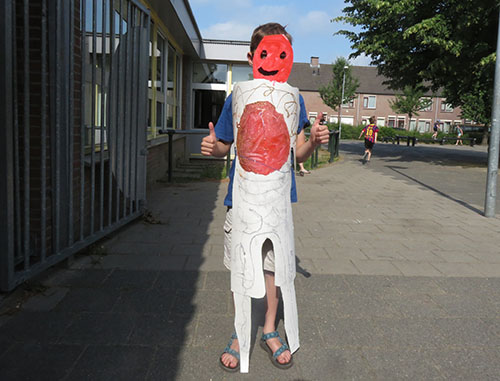 VELDWERK
Deze zomer bestaat Kunstvereniging Diepenheim 25 jaar.
Van 27 juni tot en met 5 september is er in Drawing Centre Diepenheim
werk op papier te zien van meer dan 160 kunstenaars die de afgelopen
jaren deelnamen aan tentoonstellingen in het centrum . Allemaal werk met
dezelfde afmeting; de maat van het boek, waarin alle werken facsimile op-
genomen zullen worden. Het jubileumboek zal op 5 september feestelijk
worden gepresenteerd.
Kunstvereniging Diepenheim
Grotestraat 17
7478 AA Diepenheim
www.kunstvereniging.nl/exhibition/veldwerk
DE NOG COLLECTIE
IN HET STEDELIJK MUSEUM SCHIEDAM
De tentoonstelling is verlengd tot en met 18 oktober 2015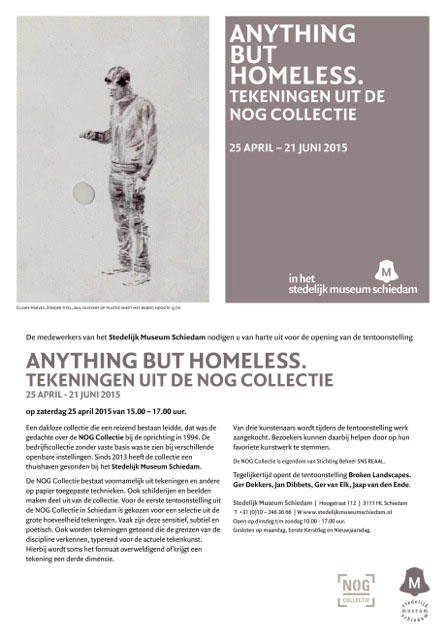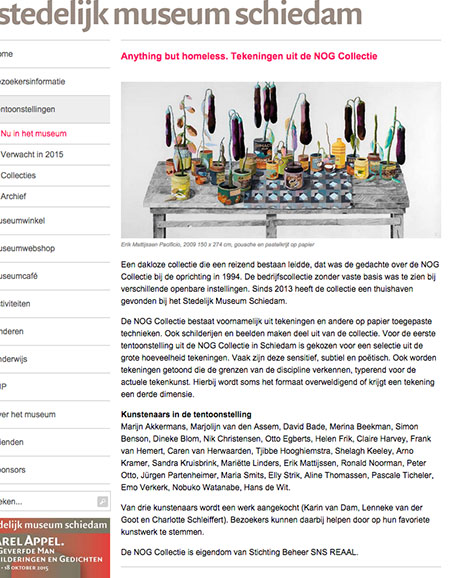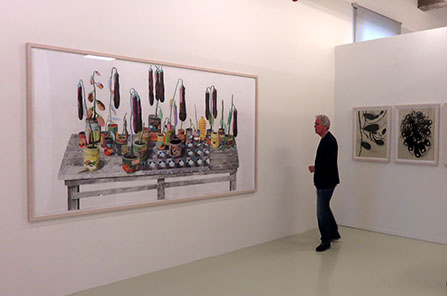 Kunstenaars in de tentoonstelling
Marijn Akkermans, Marjolijn van den Assem, David Bade, Merina Beekman,
Simon Benson, Dineke Blom, Otto Egberts, Helen Frik, Claire Harvey, Frank van Hemert,
Caren van Herwaarden, Tjibbe Hooghiemstra, Shelagh Keeley, Arno Kramer,
Sandra Kruisbrink, Mariëtte Linders, Erik Mattijssen, Ronald Noorman, Peter Otto,
Jürgen Partenheimer, Maria Smits, Elly Strik, Aline Thomassen, Pascale Ticheler,
Emo Verkerk, Nobuko Watanabe, Hans de Wit.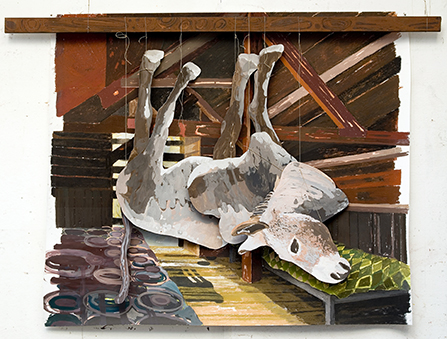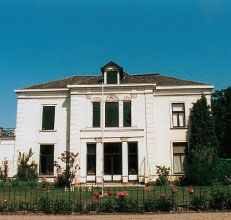 DE KIJKDOOS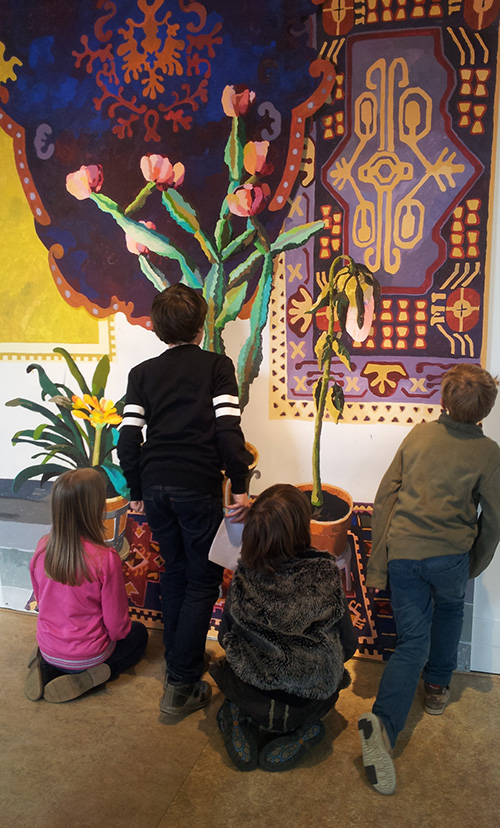 In de vroege jaren '70 bezocht ik in Bennekom, het dorp waar ik woonde, voor het eerst een galerie:
De Kijkdoos, gevestigd in een soort sta-caravan achter een huis in de Heerdlaan.
Halverwege de jaren '90 verhuisde de galerie naar een statige villa en in 2001 exposeerde ik
er met Gijs Assmann. Op 28 maart opent er een tentoonstelling met het werk van Jacobien de Rooij,
Norman Trapman en mij.
Villa Erica, Ericapark 1 in Bennekom
http://www.dekijkdoosbennekom.nl/
28 maart t/m 19 april 2015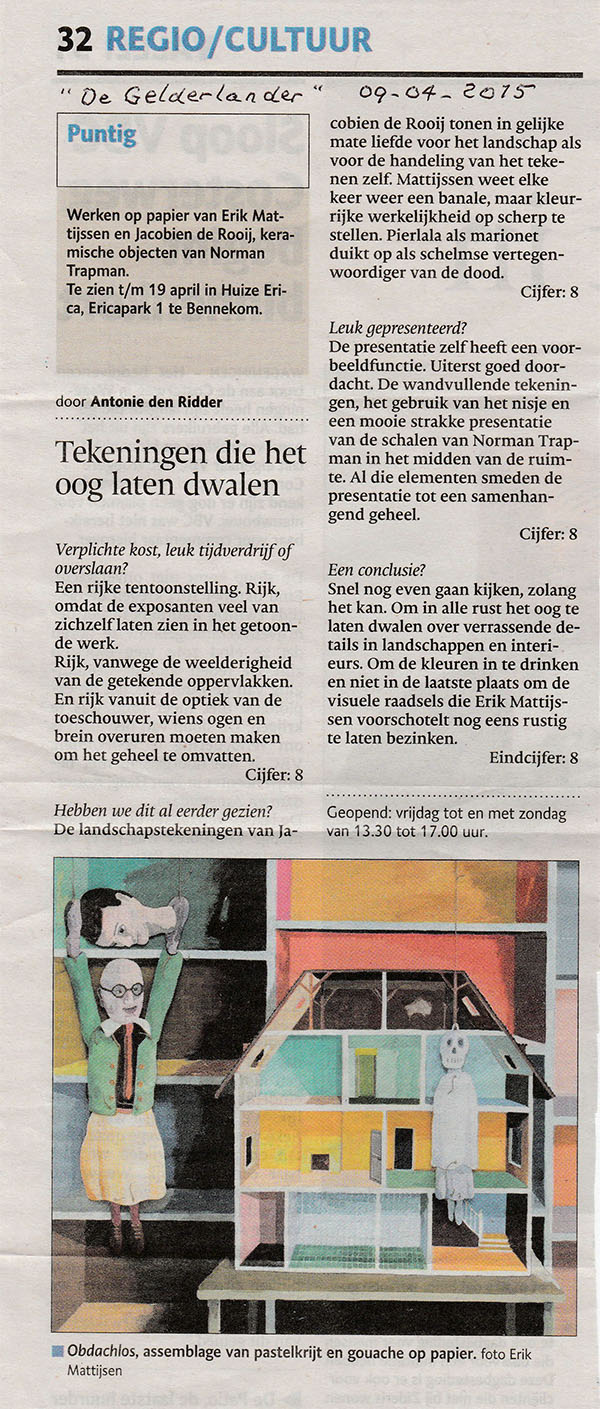 INDIA
Ik verbleef in december en januari 2015 zes weken in Calcutta (Kolkata), lang de hoofdstad toen
India nog een Britse kolonie was.
Een onbeschrijflijke, inspirerende en alle zinnen prikkelende ervaring.

I just come home from a six weeks stay in one of the most incredible cities in the world: Calcutta
(Kolkata), a very inspiring and titillating experience.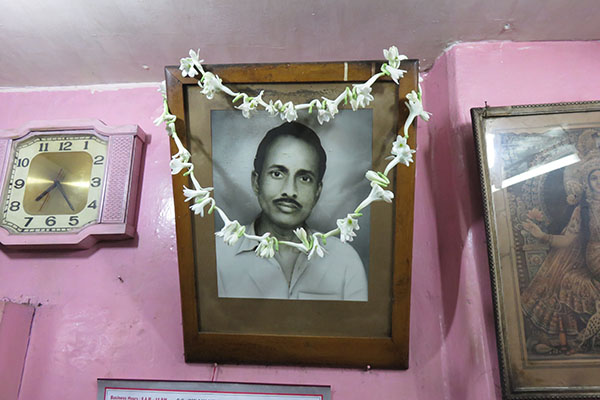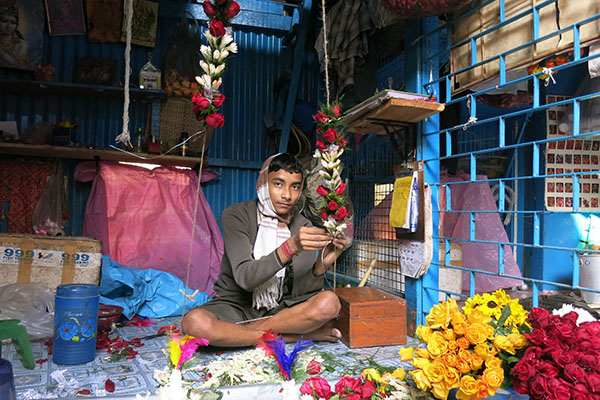 IERLAND
Begin november 2014 keerde ik terug naar The Ballinglen Arts Centre in Ballycastle, Co Mayo,
en ik bleef er een maand. Het ligt in het Noordwesten van Ierland en is een ongelooflijke plek.
Mijn wandelingen langs het strand en de spullen die ik er vond hebben geleid tot een serie stapelingen;
nieuwe stillevens.
Early November I returned to The Ballinglen Arts Centre in Ballycastle in Ireland and recided there
for a month. It is the most remote and wonderful location in the Northwest of the country.
My walks along the beach and the stacked objects I found have led to a series of new still lifes.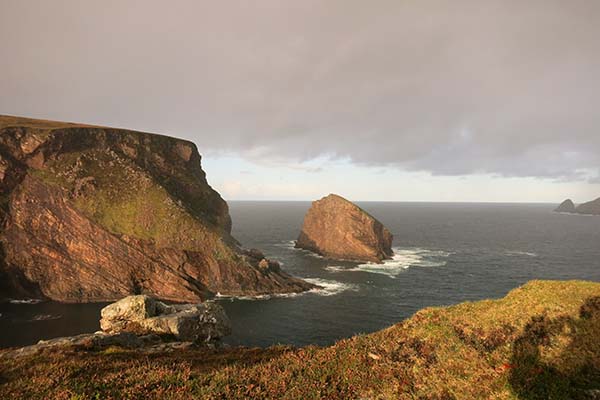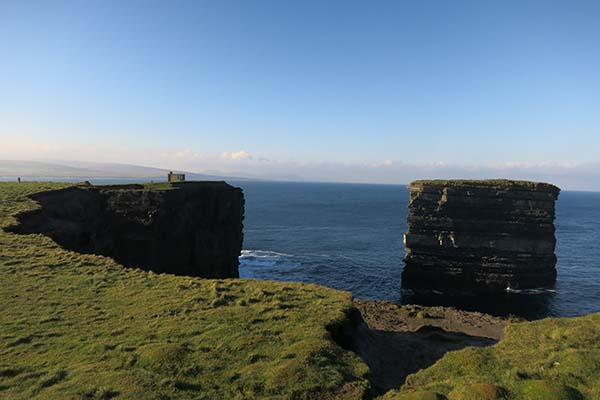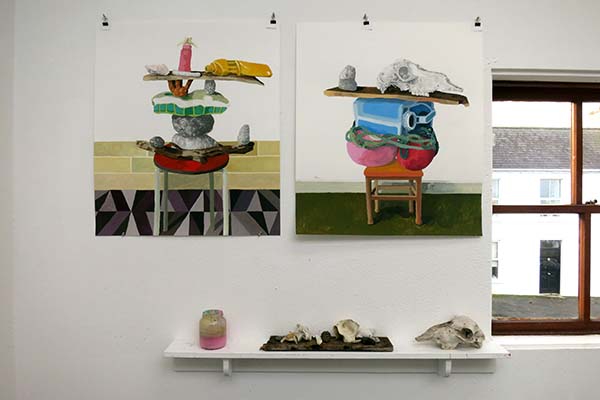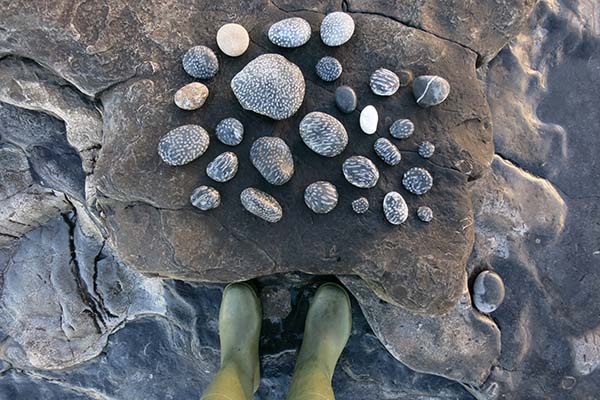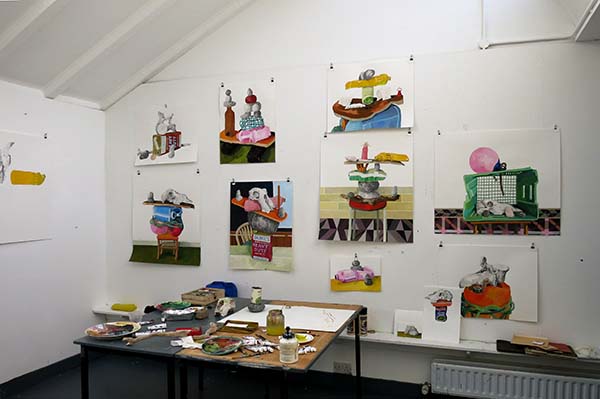 AUGUST EN AMALIA
De kunsttoepassing voor de basisschool Waalsdorp in den Haag is geplaatst!
De twee (verliefde) hoofdfiguren hebben een naam gekregen: August en Amalia.
Het werk is op maandag 27 oktober 2014 op feestelijke wijze geopend met een optocht van alle
leerlingen van de school, voorafgegaan door drie muzikanten.
I was asked a commissioned contribution of an artwork for a primary Montessori school in
the Hague and decided to work with plywood cut-out figures hanging in the atriums of the building.
The main characters, August and Amalia, are in love! It was opened on October 27 2014 with a parade
of all pupils of the school.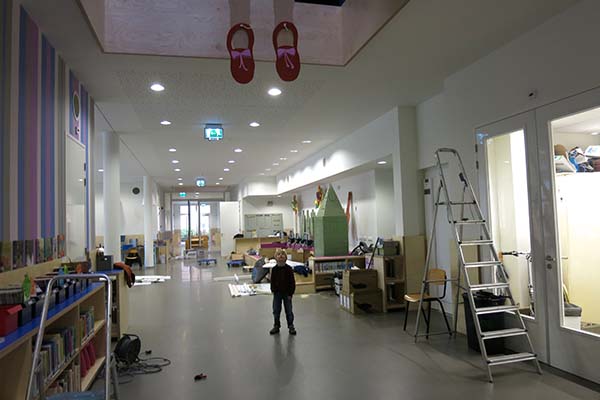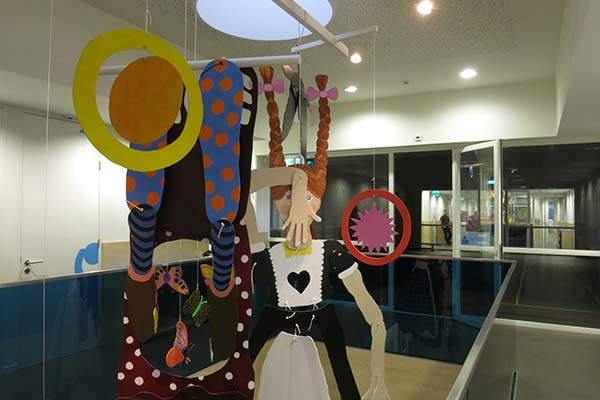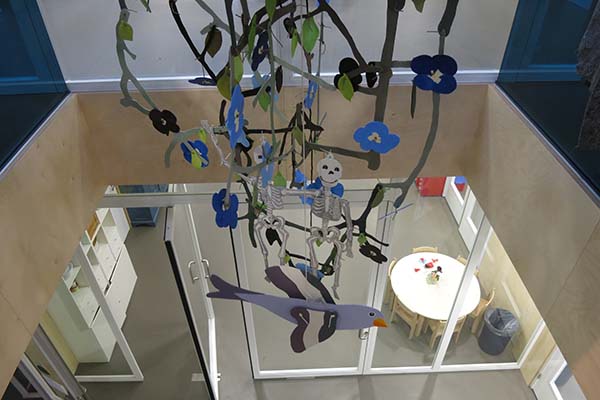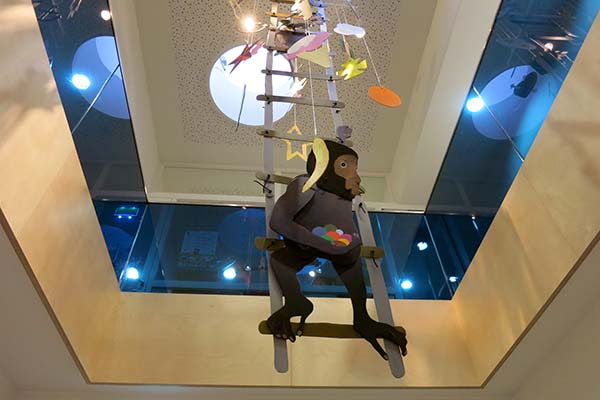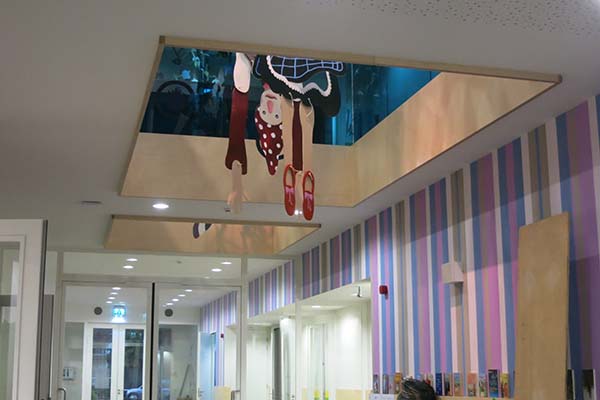 In toenemende mate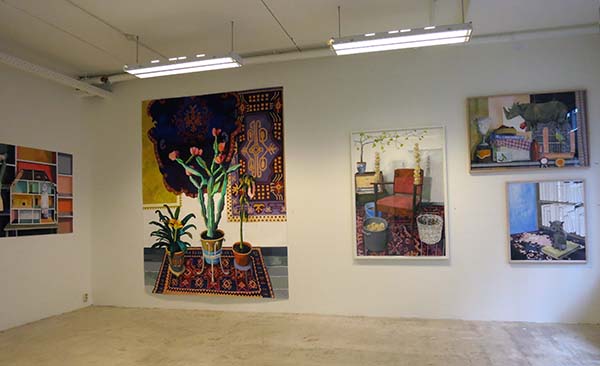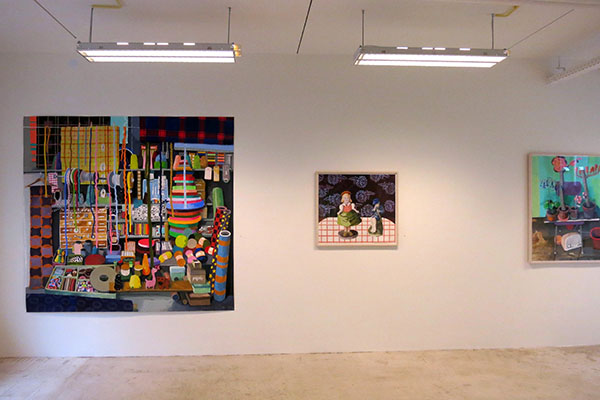 Op zaterdag 6 september 2014 opende mijn solotentoonstelling, 'In toenemende mate', in de
nieuwe ruimte van Ron Lang Art, Laurierstraat 82, Amsterdam.
Hij duurde tot en met 27 september.
My solo-exhibition at the new location of Ron Lang Art, Laurierstraat 82
in Amsterdam opened on Saturday September 6 and lasted till September 27.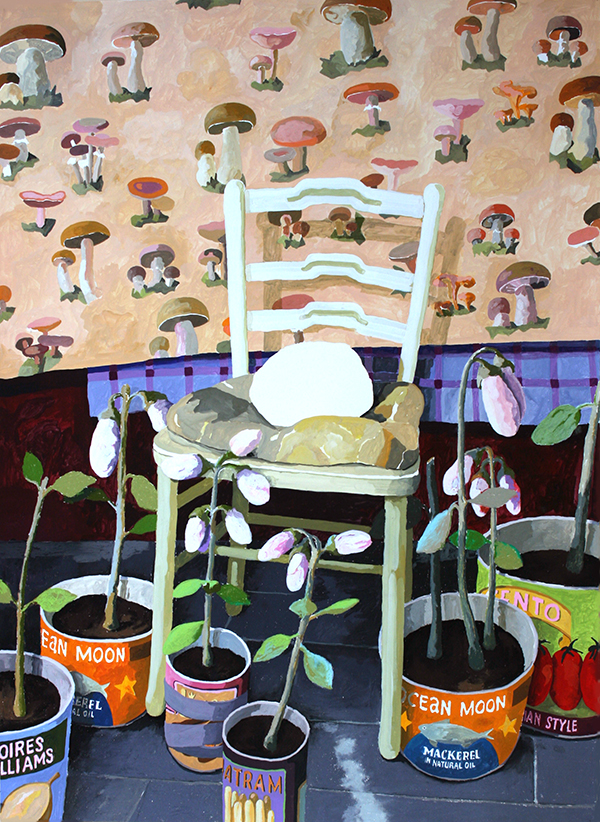 Ocean Moon
111x 81 cm
Montessorischool Waalsdorp den Haag
In opdracht van STROOM heb ik een ontwerp gemaakt voor een kunsttoepassing in de
drie atriums van de Montessori basisschool Waalsdorp te den Haag.
Het werk zal dit najaar worden opgeleverd.
de maquette: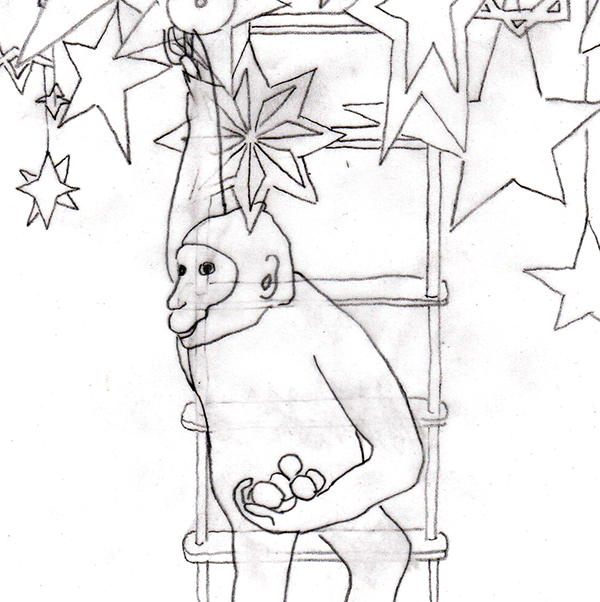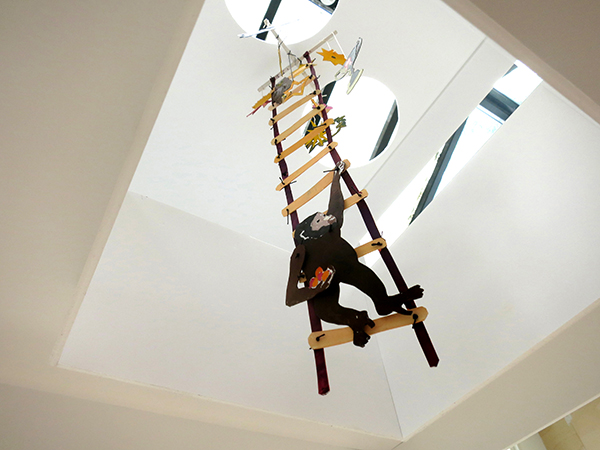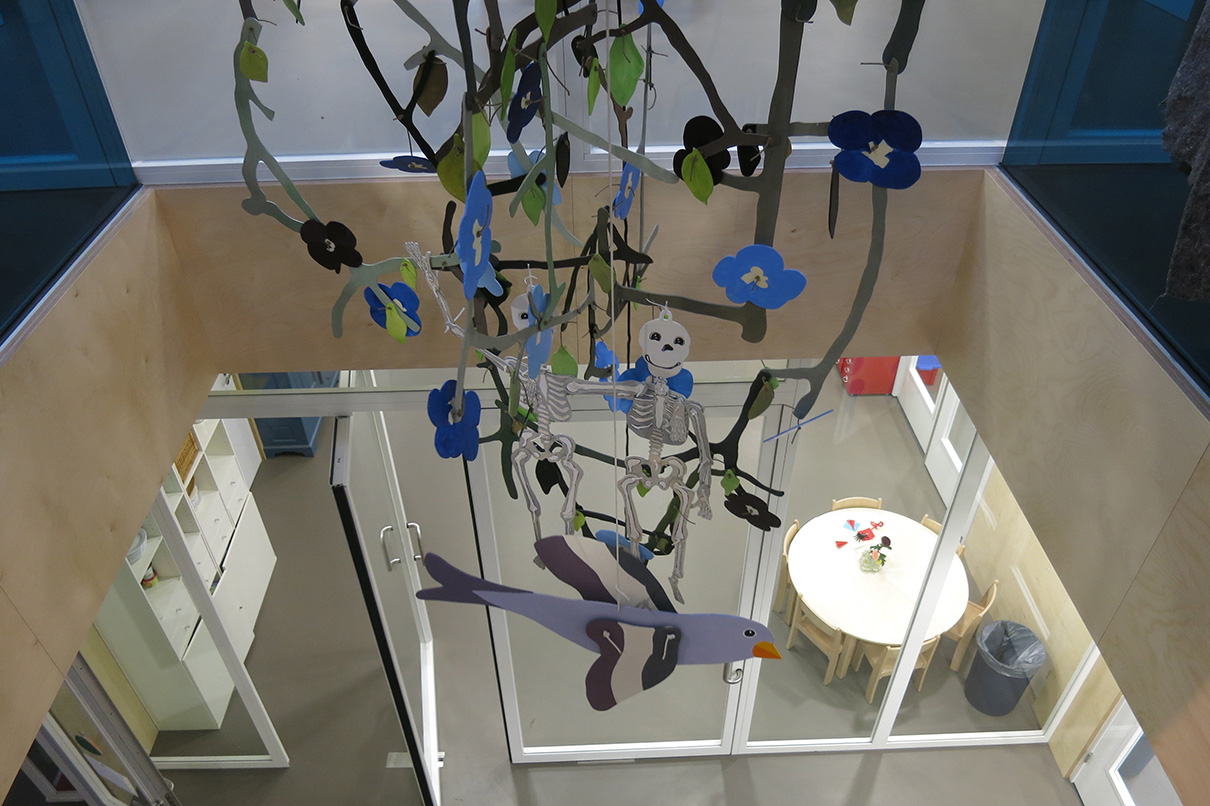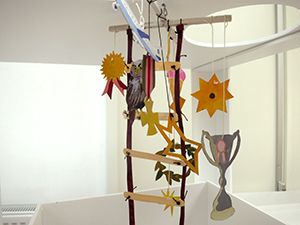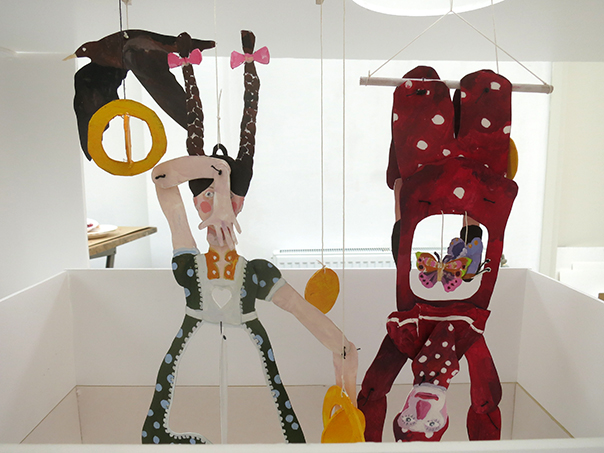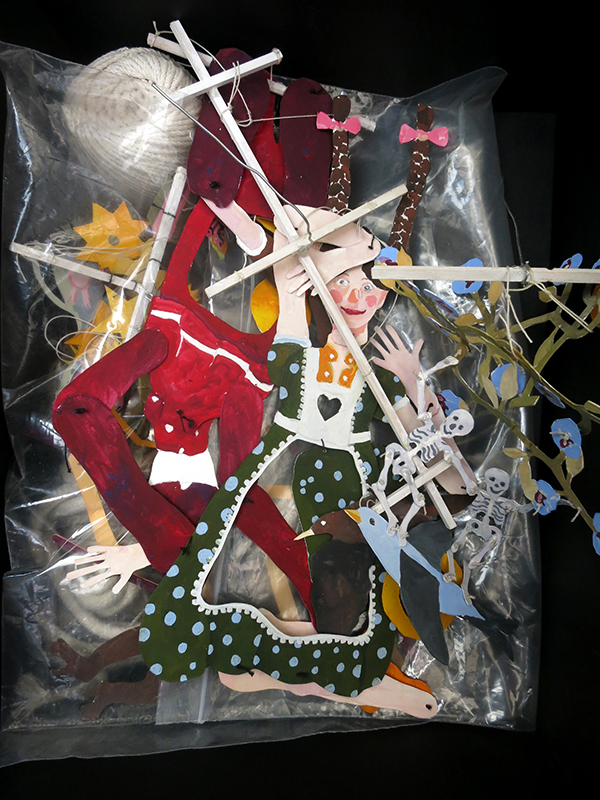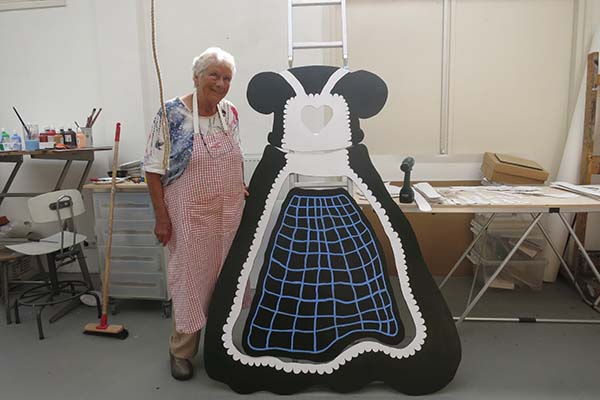 Antoni van Leeuwenhoek
Deze zomer is een flink aantal grote werken te zien geweest in het
Antoni van Leeuwenhoek ziekenhuis in Amsterdam, ter introductie van de opdracht
die ik daar in het voorjaar van 2016 zal realiseren.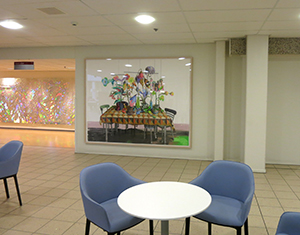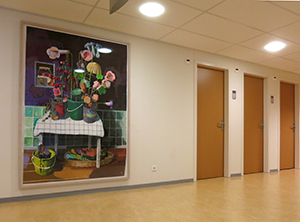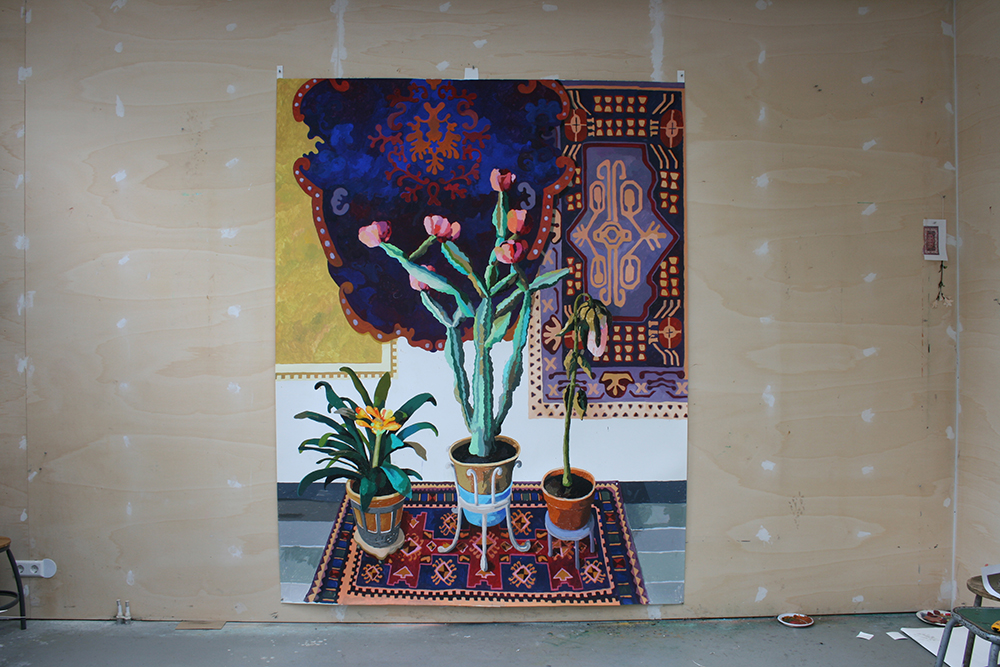 Teppichladen, 252 x 196 cm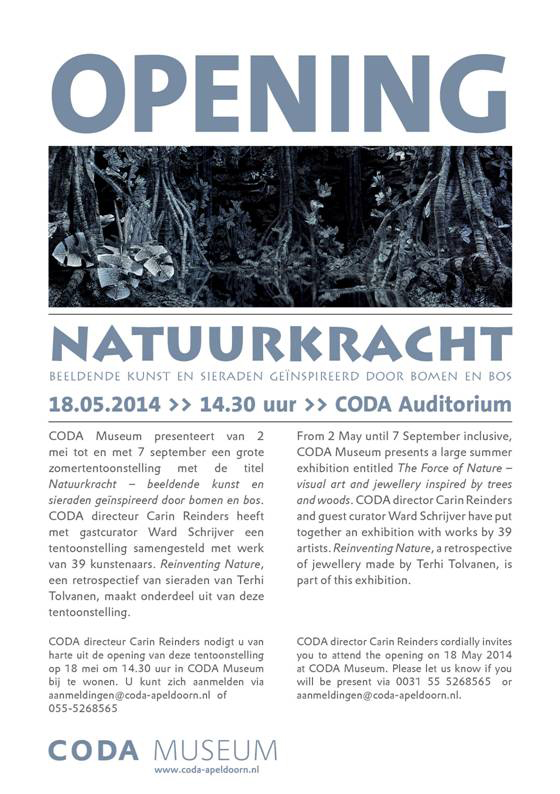 Met:

Alexander Blank, Anne Wenzel, Anoek Steketee, Armando, Bettina Speckner,
Bruce Metcalf, Cuny Janssen, Erik Mattijssen, Erik Odijk, Evert Nijland,
Fons Haagmans, Francis Willemstijn, Frank van Hemert, Georg Dobler,
Gijs Assmann, Guido Geelen,Hannah van Bart, Hans van Hoek, Helena Lehtinen,
Heringa/Van Kalsbeek, Jasper de Beijer, Jeroen Vinken, Joost van den Toorn,
Juul Kraijer, Kim Boske, Klaus Baumgärtner,
Konrad Mehus, Levi van Veluw, Lucy Sarneel, Margriet Smulders, Mari Ishikawa,
Mat van der Heijden, Misha de Ridder, Nik Christensen,
Piet Warffemius, Sjoerd Buisman, Terhi Tolvanen, Tom Claassen en Toon Teeken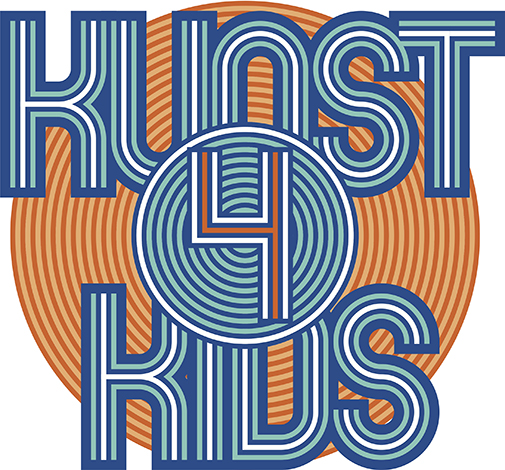 Op zondag 27 april 2014 opende in Museum Boijmans Van Beuningen een verkooptentoonstelling
voor kinderen en jongeren van 5 tot 18 jaar. In de meivakantie tot en met 4 mei konden de verzamelaars
in de dop een kunstwerk aanschaffen voor de prijs van 35 €.
(Groot)ouders, ooms en tantes mochten de tentoonstelling niet in.
Deelnemende kunstenaars: Gijs Assmann, Wolf Brinkman, Jason Coburn, Sander van Deurzen, Pam Emmerik,
Serge Gaem, Stefan Gross, Chantal van Heeswijk, Han Hoogerbrugge, Lidy Jacobs, Frank Koolen, Maartje Korstanje,
Gabrielle van de Laak, Erik Mattijssen, Desiree Palmen, Vanessa Jane Phaff, Abner Preis, Paul de Reus, Gyz la Riviere,
Jean Marc Spaans, Iwan Smit, Koen Taselaar, Joost van den Toorn & Mariko Hashimoto, V&B, Joncquil de Vries en
Freek Wambacq.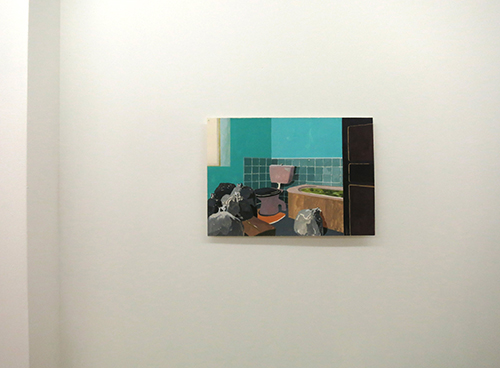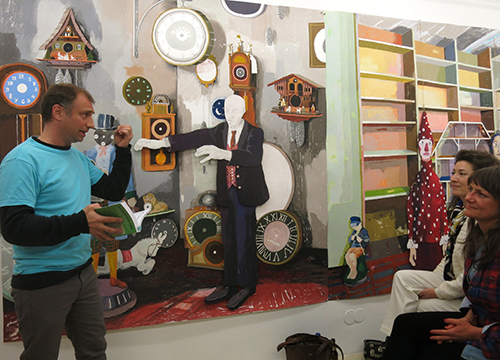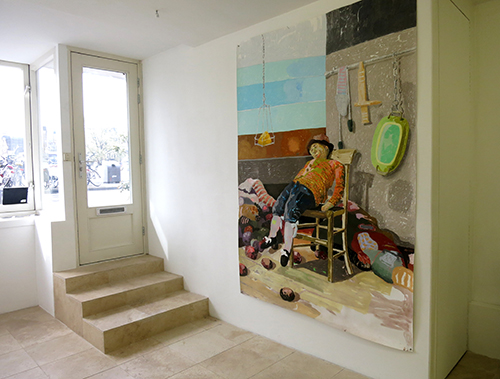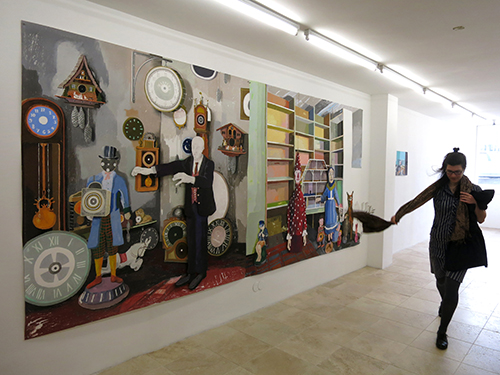 MATCH with David Colosi reading from his book
Miss Pumpernickel Bread at Amstel 41, Amsterdam
on March 30 2014, at 7.00
curated by Hanna Mattes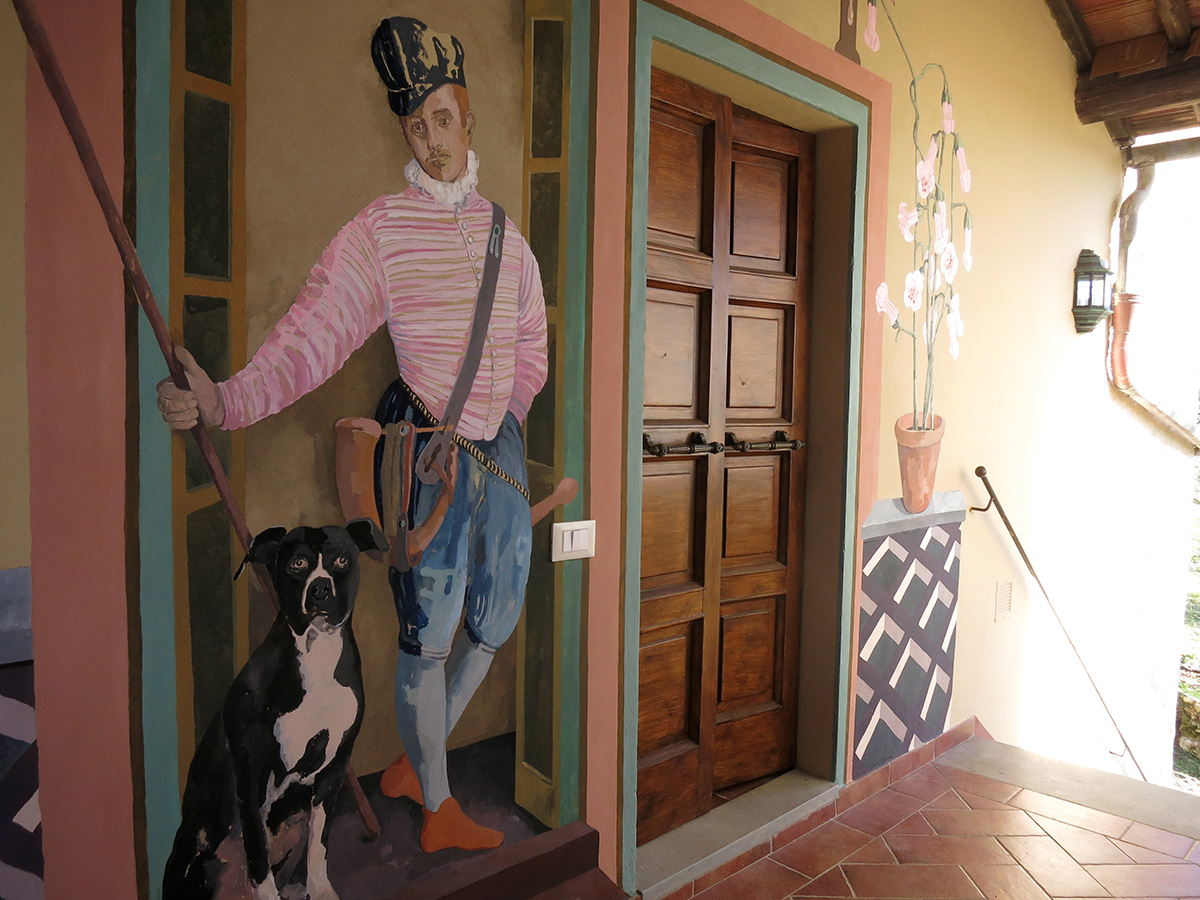 'Il Cacciatore',
een muurschildering in Italië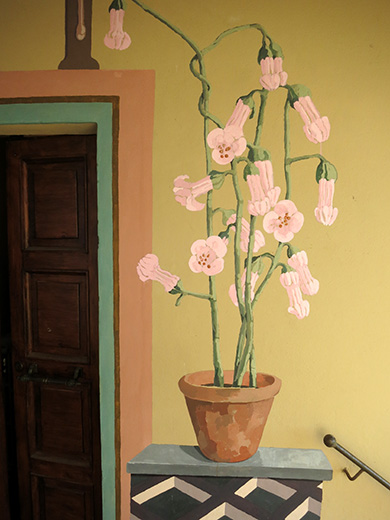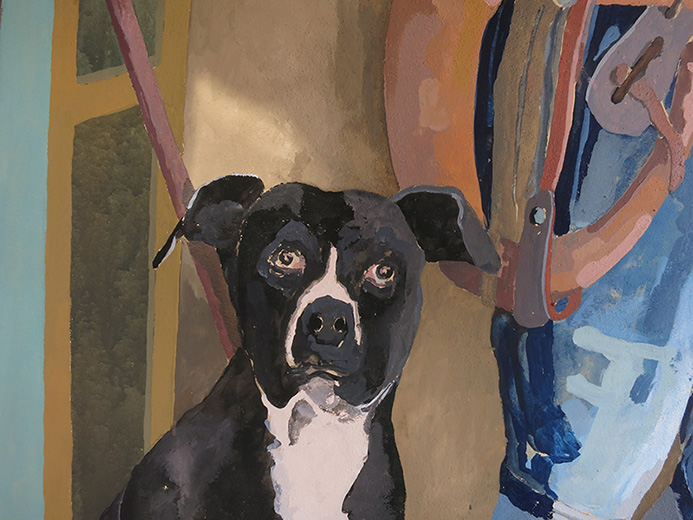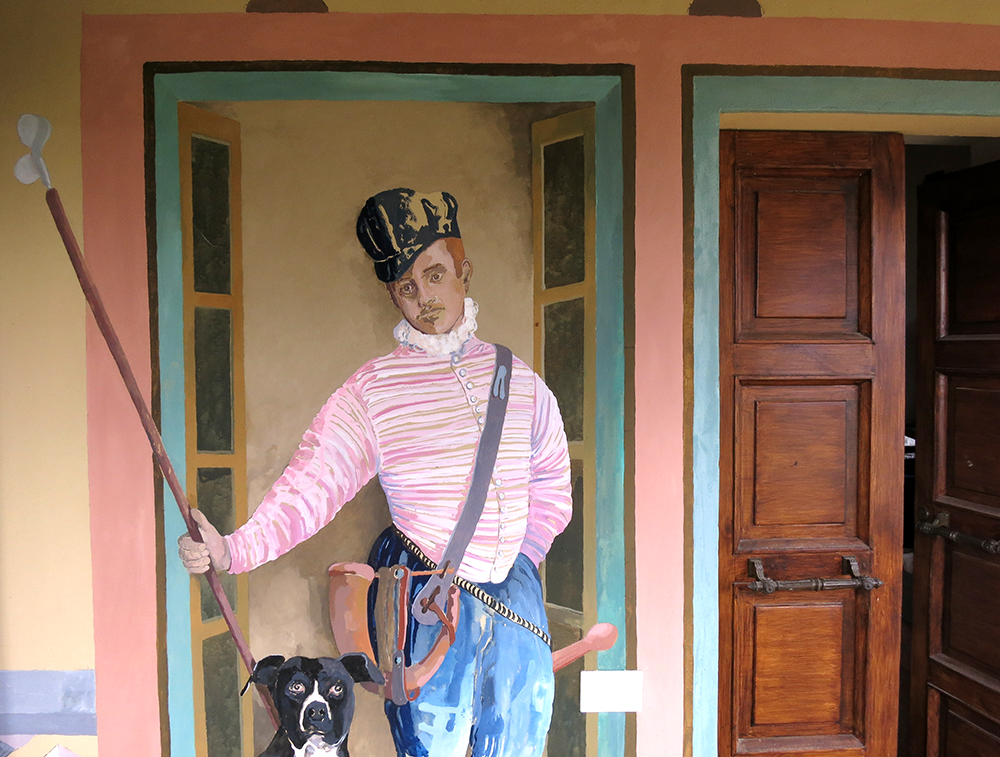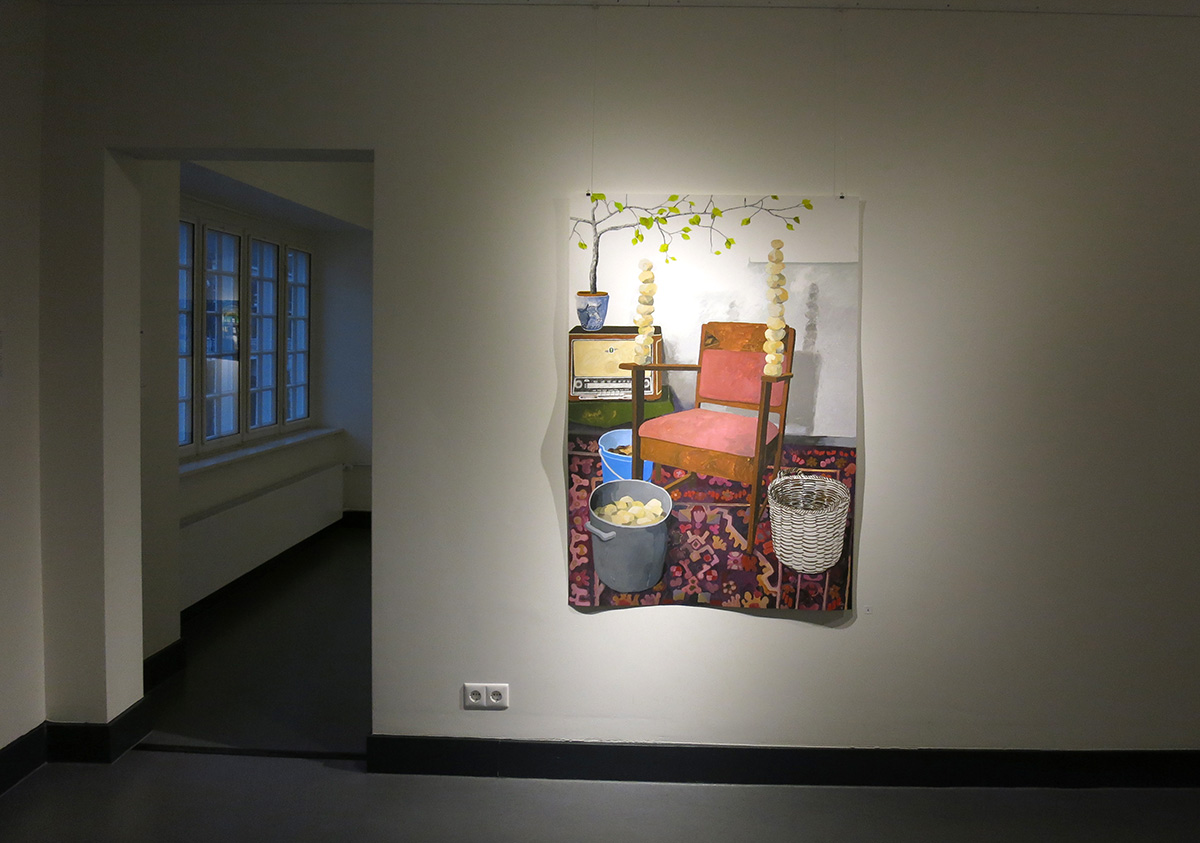 'Het Geheim', in Doetinchem
135 x 96 cm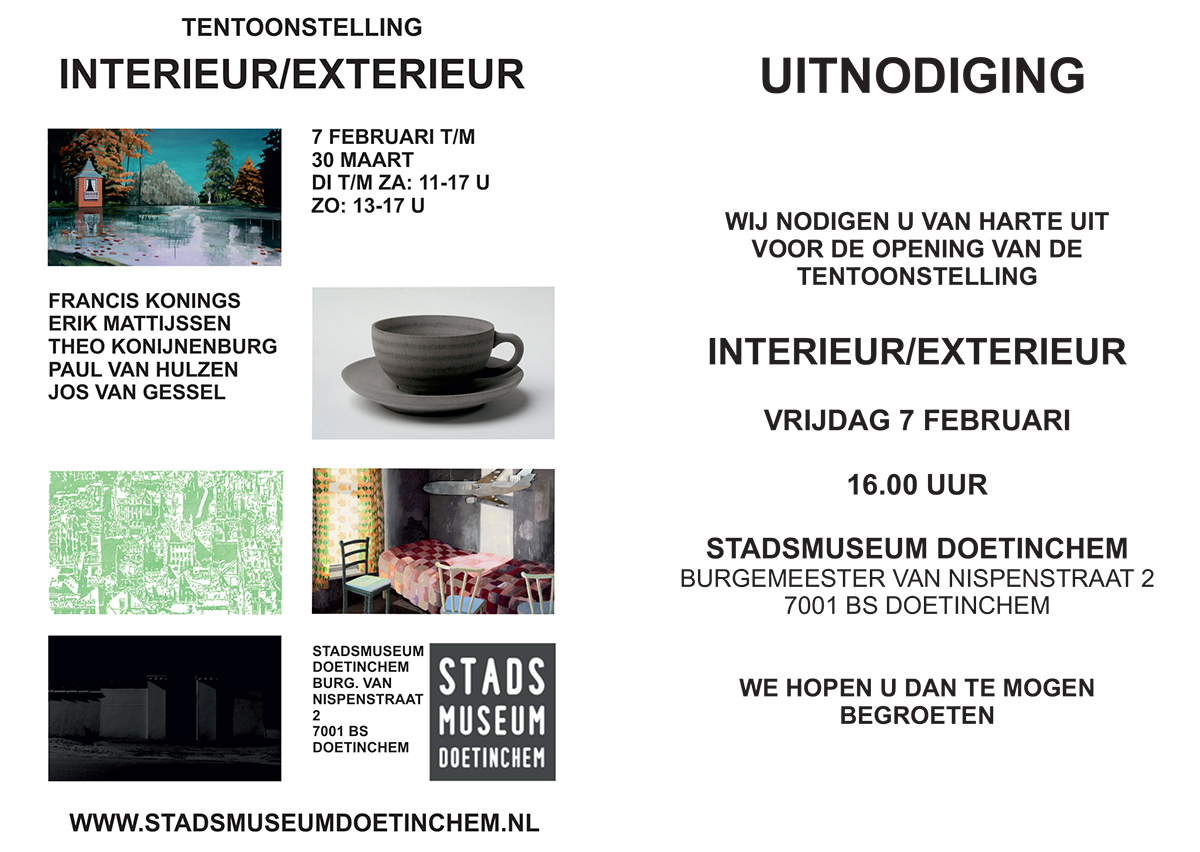 As large as life, and twice as natural'
was een solotentoonstelling van Erik Mattijssen
in museum Jan Cunen, Oss

NRC 19 december 2012